Designing a dream backyard has to include an inground pool. But not just any inground pool. It has to include features that will be functional and loved by your family. Make your outdoor space stand out with these must-have pool features to add to your design plan.
Don't settle for ordinary pool design! Install the best backyard pool in #Houston with these personalized features! Click To Tweet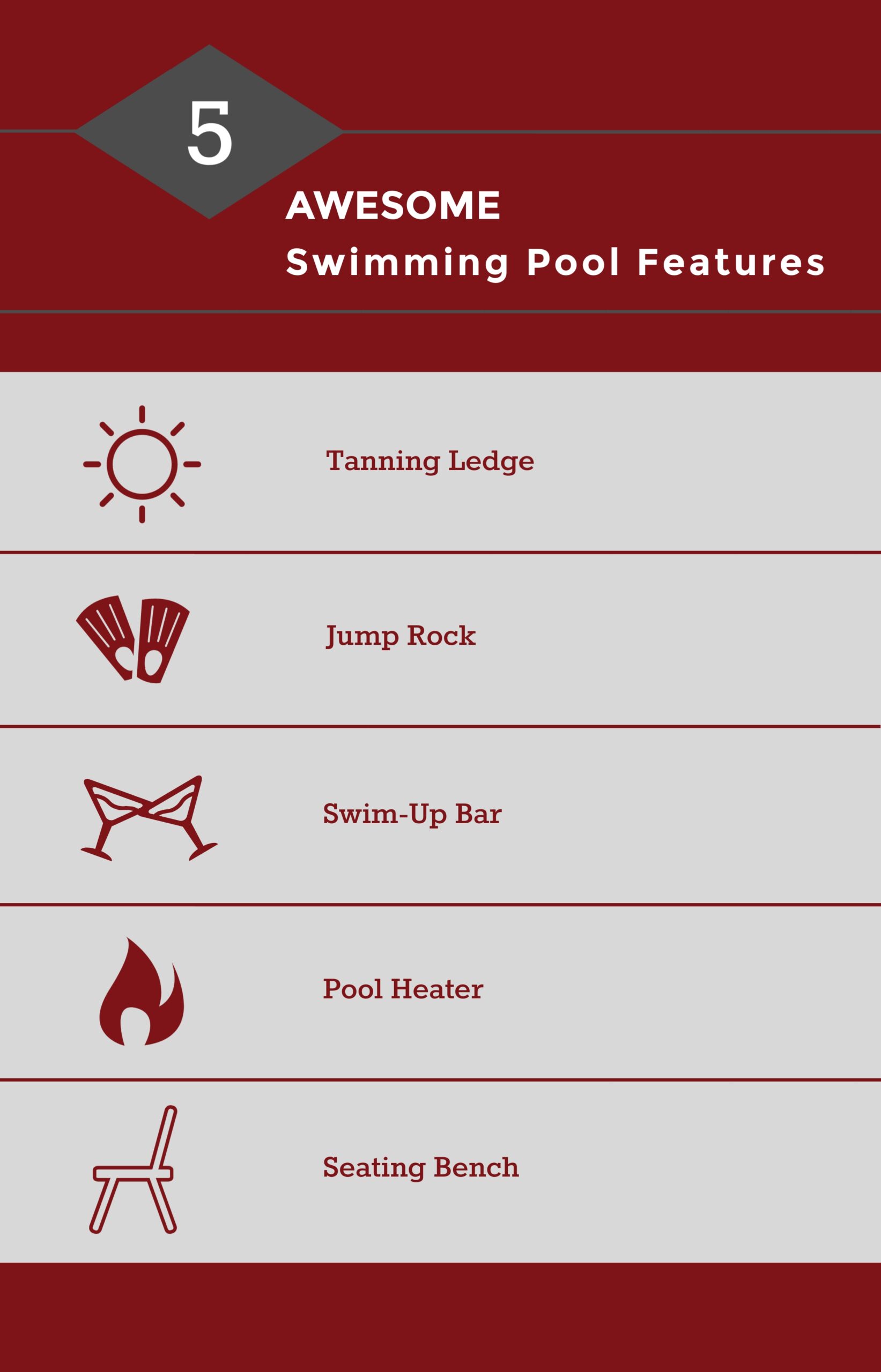 Make Your Pool Extraordinary
Are you ready to design your pool layout? Whether you have an existing pool or are breaking new ground, don't forget to customize your pool with add-on features. If nothing else, start with these 5 features to make your pool extraordinary! 
Tanning Ledge

Jump Rocks

Swim Up Bars

Pool Heater

Seating Benches
1) Tanning Ledge
Why settle for the traditional lounge chairs and pool deck? Tan comfortably in the water with access to a tanning ledge from your pool. With customizable shapes and sizes, you can design your pool with a tanning ledge to fit in any space!
2) Jump Rocks
Make your pool kid-friendly with a jump rock any age could enjoy! Instead of a diving board, pool owners love the idea of a jump rock. Whether attached to a rock waterfall or placed along the side of the pool, the natural stone look is a great way to enhance your pool's character.  
3) Swim Up Bars
Take your entertaining to a new level without ever leaving the pool! With a swim-up bar, you can serve food and drinks at a bar built into your pool's infrastructure. Instead of having to get out and dry off for dinner, you can keep the party going in the pool water.
Pro Tip: Use different color bulbs in your LED lights to set the mood and plan the perfect nighttime pool party for your friends and family.
4) Pool Heater
No pool is complete without a heater to maintain functionality year-round. Install a pool heater in your pool or hot tub to keep the water temperature at a comfortable level no matter what weather has been forecasted.
5) Seating Benches
Why not have seating built into your pool structure? Instead of buying outdoor furniture, install a seating bench to attach along the edge of your pool for your guests. With a wide range of options, you can artfully design the bench materials to match your pool and backyard style.
Best Pool Design in Houston
When designing an inground pool, there are a number of water features to make your pool unlike any other. Our pool builders provide exceptional knowledge and innovative ideas to help you create the best pool in Houston. 
Did we forget to mention your favorite pool feature? Share with us on social media!