Are you ready to transform your backyard into the ultimate getaway? Whether you use your backyard to host an awesome pool party or BBQ cookout, the options are endless to make your outdoor living area come to life. If you're looking for inspiration to design your custom backyard, take a look at these renovations from homes in the Greater Houston area. 
Whether you're looking for a backyard oasis or upscale resort, our #CreekstoneOutdoorLiving designers are ready to transform your #Houston backyard! Click To Tweet
Designing for the Houston Area: Top 5 Custom Backyards 
Since 2009, our team has been able to design and build hundreds of beautiful backyards in Houston's surrounding areas. Check out our five favorite backyard renovations to help you brainstorm which outdoor features to choose for your home.
Backyard Oasis

Texas Retreat

Outdoor Charm

Upscale Resort

Cottage Hideaway
1) Backyard Oasis
Designed to impress, this backyard oasis has all of our favorite features including a fire pit, custom swimming pool, dining area, and covered patio. By choosing neutral stone colors to match their siding, the homeowners were able to add value and character to their beautiful home.
Pro Tip: To accentuate your existing home style, our design consultation includes an onsite tour of your existing space. Start the design process by scheduling a consultation today!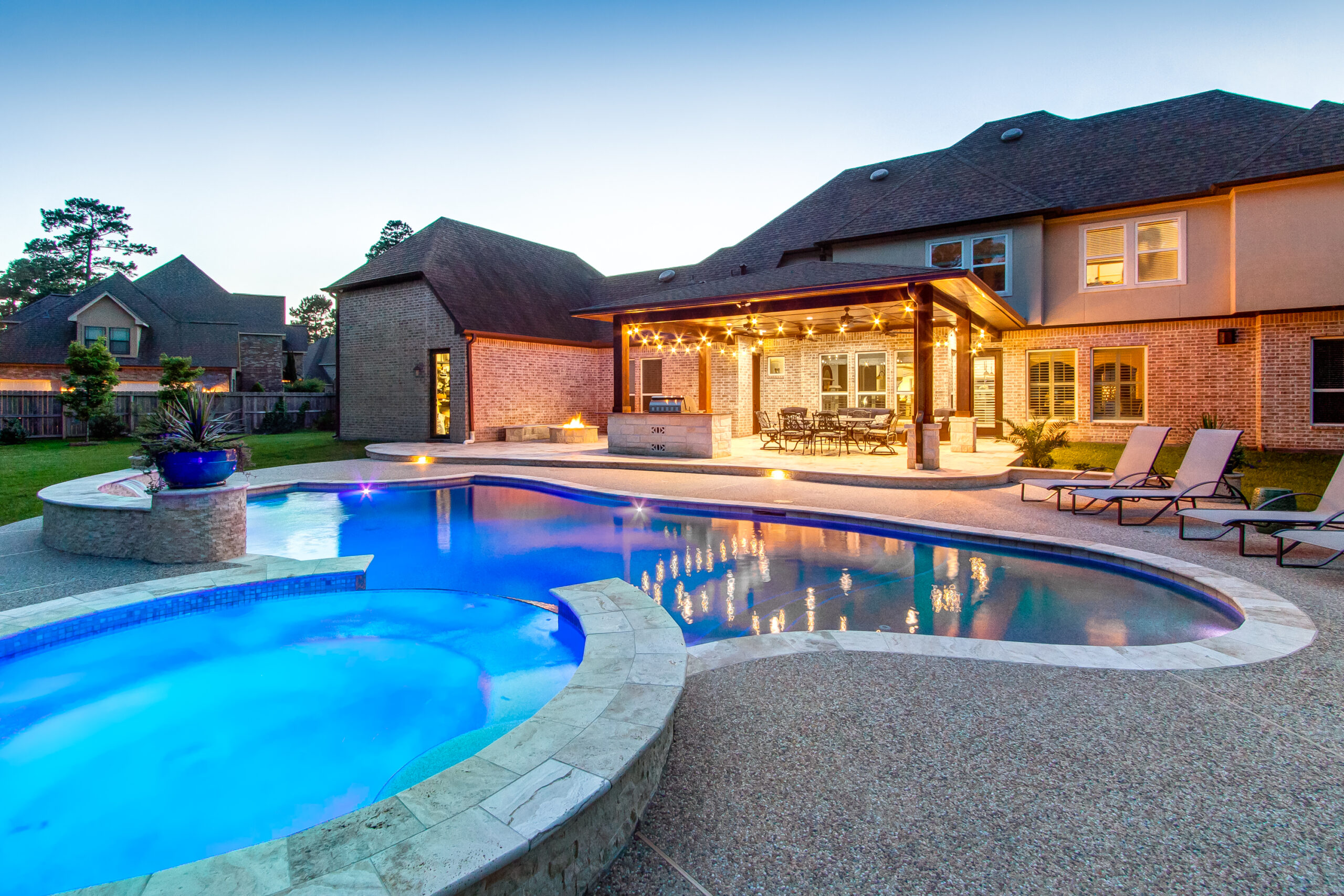 2) Texas Retreat
If you want to turn your backyard into a retreat, you can install a custom-designed patio cover like this home. By combining warm wood stains with natural stone, these homeowners were able to create a space that complimented their rustic style. The rock waterfall addition to their pool was a special touch that brought a warm feel to their Texan retreat.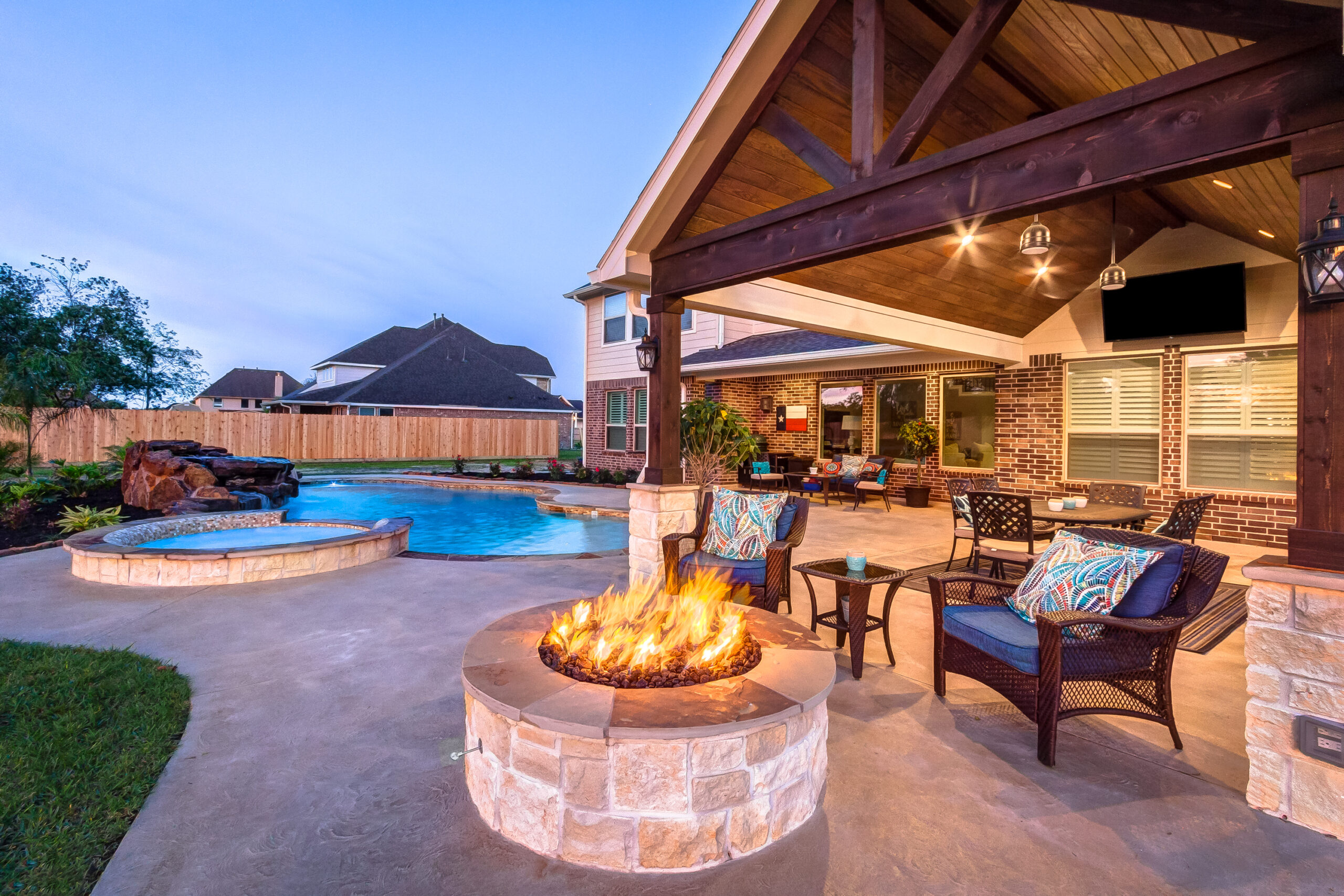 3) Outdoor Charm
If you want to make your home the talk of the neighborhood, install an outdoor fireplace to spark interest and create an outdoor meeting place. By adding a hot tub to their pool and large fireplace on the side, these homeowners are now able to entertain all throughout the year.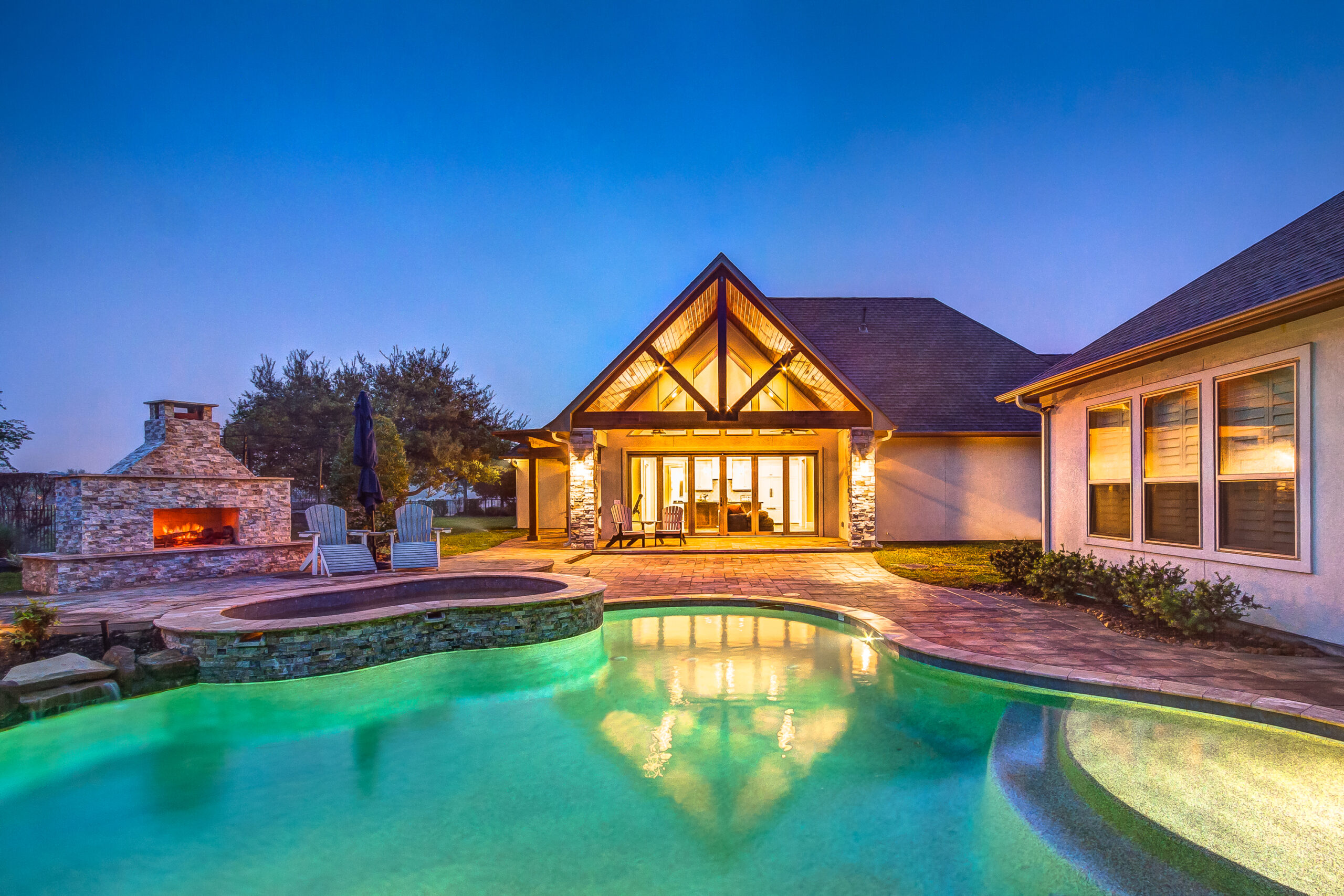 4) Upscale Resort
Who says you can't have a stay-at-home vacation? By installing a custom patio with luxury lighting and a pool with water features, this home's backyard was transformed into an upscale resort for everyone to enjoy.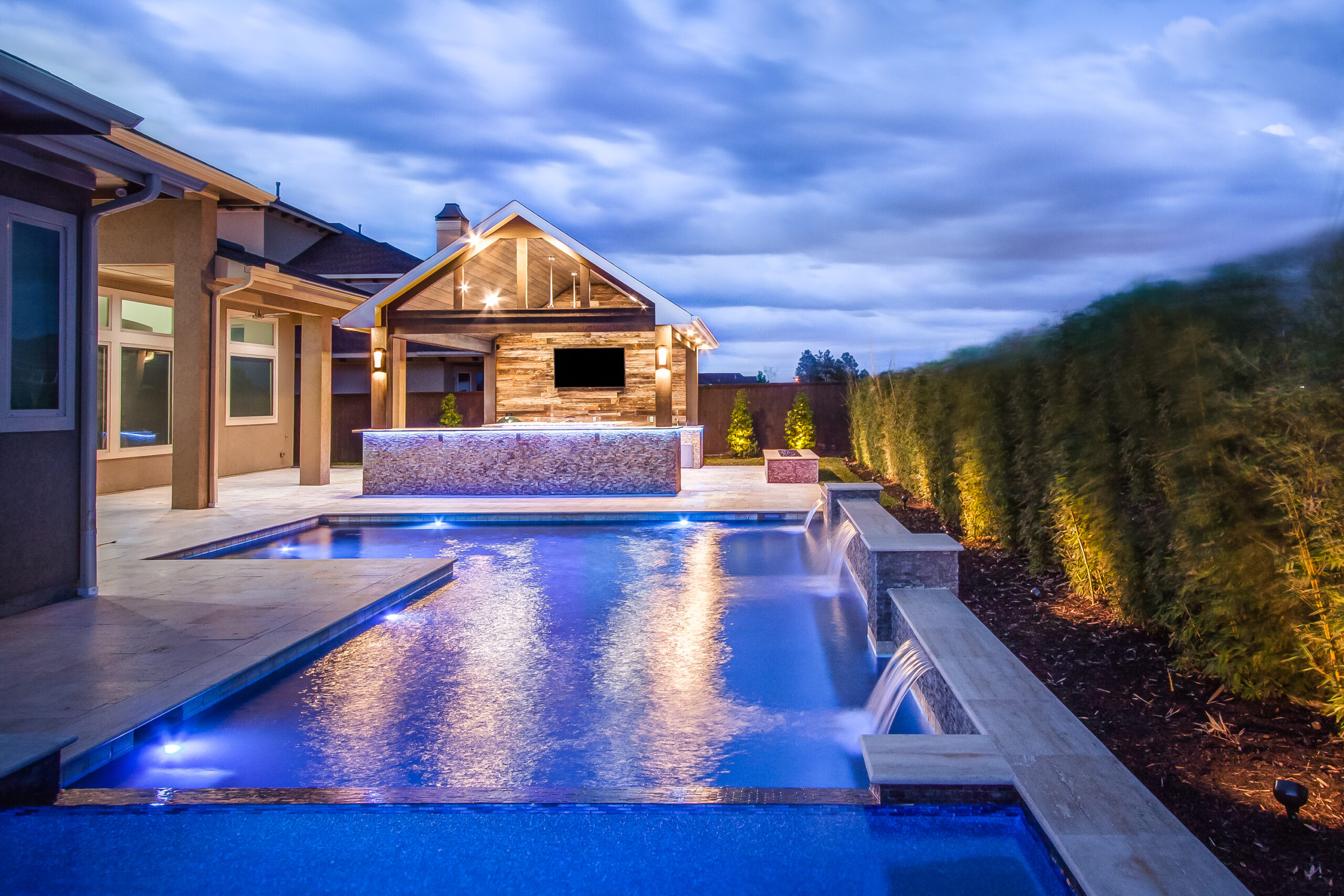 5) Cottage Hideaway
When your outdoor living space becomes an extension of your home, you'll know your custom backyard is on the right track. These homeowners chose to coordinate the red brick from their home into their outdoor kitchen by installing a custom island. With ambient lighting and a pool steps away from the patio, this backyard is a cottage hideaway unlike any other.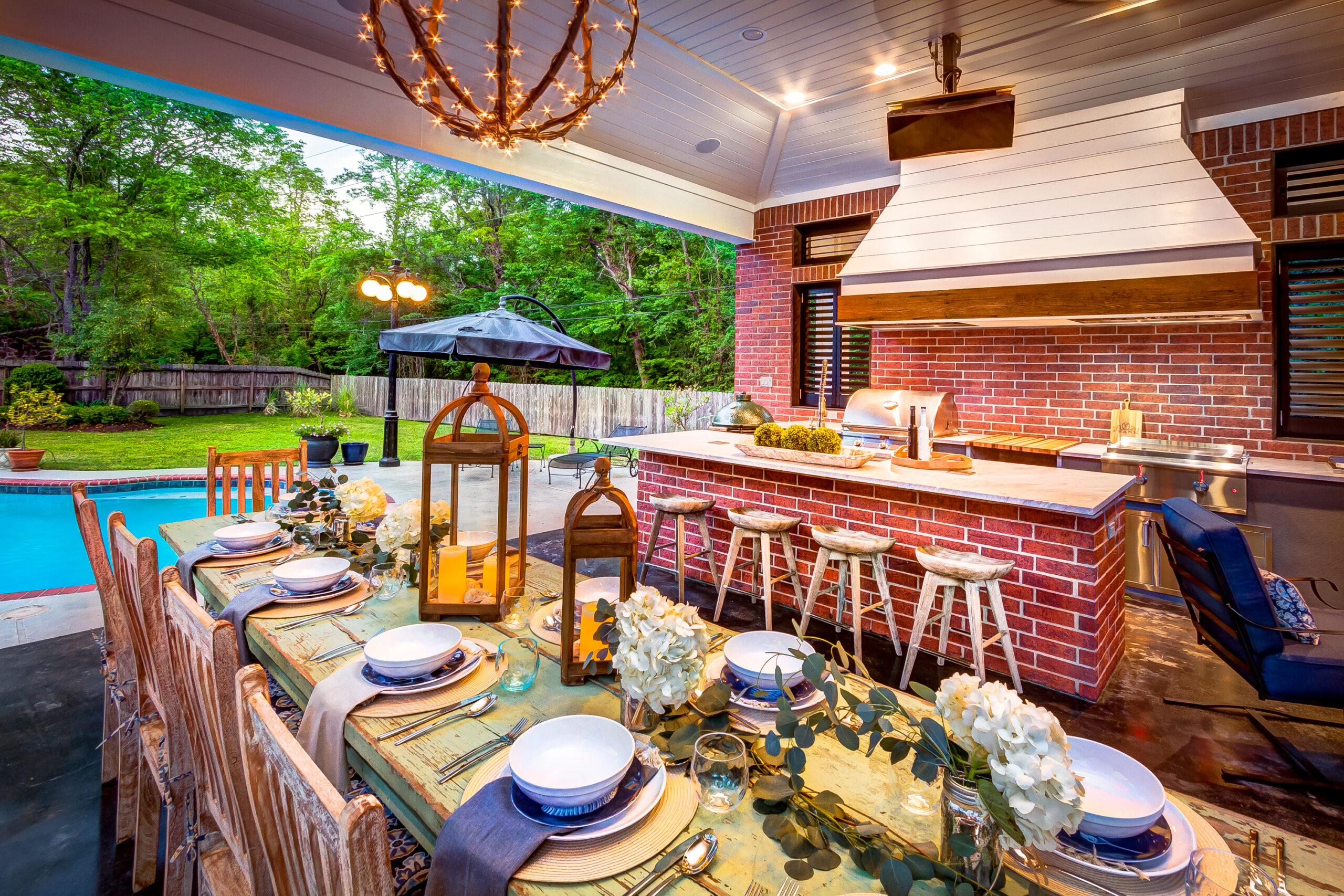 Living Spaces Designed for YOU
Are you ready to design your outdoor living space? From the initial design consultation to the completion date, our designers are available to assist you in building your customized backyard. Our pool builders and landscape designers look forward to making your space an outdoor retreat your whole family will love.
For more backyard design ideas, connect with us on social media!