No outdoor living space is complete without some shade! If you're designing an entertainment space in your backyard, installing a covering is a great way to add style and functionality. Between a pergola and patio cover, the two structures may sound essentially the same. However, understanding the differences will help you choose the right outdoor covering for your living areas.
Isn't a pergola and a patio cover the same thing? Learn the differences and find out what kind of outdoor kitchen roof you need! Click To Tweet
Pergola or patio cover? Which outdoor covering is right for your home? Where the pergola might add character with its open rafters, a patio cover brings functionality and protection. Both pergolas and patio covers have benefits, but depending on your lifestyle, there's undoubtedly one that is right for you.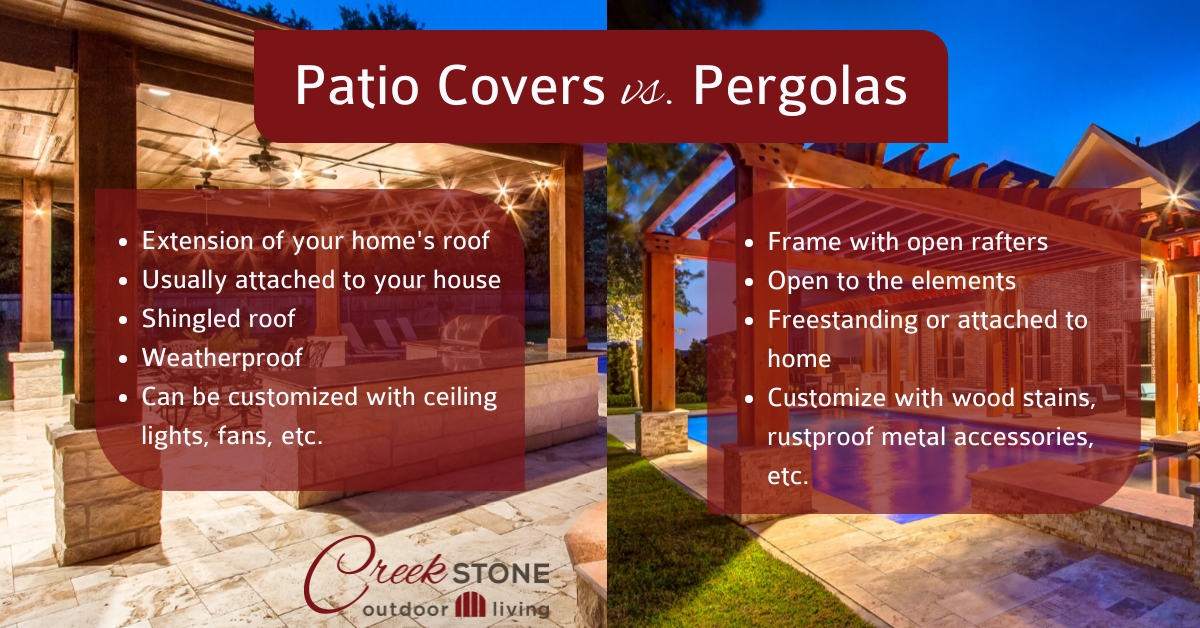 What is a Pergola?
Interestingly, a pergola is usually not defined as a "roof". Because it is built from a frame with open rafters, it can't fully protect from weather elements. It can, however, bring shade to your backyard or garden area. A pergola can either be a freestanding structure or attached to your home, depending on the design. Choose from a wide range of high-quality wood stains or rust-proof iron elements to build a pergola with character and style in your outdoor living area.
What is a Patio Cover?
Compared to a pergola, a patio cover is essentially an extension of your home. The roof of a patio cover is usually covered with asphalt shingles to match the attached home or garage and is attached to the exterior siding. Patio covers range in design and customized features including stone, wood stains, height, and built-in light fixtures. To add shade and protection from the rain, a patio cover is a great addition to any outdoor kitchen or living space.
Pro Tip: Design a patio cover to bring your outdoor kitchen, living, and dining areas together under a single roof.
Deciding on an Outdoor Roof
Choosing between a pergola or patio cover depends ultimately on your use. How will you use your outdoor space? If you plan to spend time with your friends and family outdoors, shade is an absolute must but the outdoor roof can vary.
Pergolas are usually less expensive, can be customized for small spaces, and can even house climbing plants. A patio cover, however, is built to fully protect your outdoor living space and is a permanent addition to a home.
Outdoor Living in the Greater Houston Area
Whether you're adding a covering over your outdoor kitchen or creating a defined space for hanging out, the choice of covering ultimately depends on you. Both a pergola and patio cover offer shade, functionality, and style to your unique backyard. Once you figure out how you'll be using your back patio and which coverage works best, it's time to build!
Connect with our team to design a customized and beautiful pergola or patio cover for your home!