ARBOR TYPES

Backyard arbors can be built in a variety of styles to suit your outdoor living vision.  Whether you are looking for a shaded spot with seats to view your garden from, want a wooden structure your climbing vines can accent, or a beautiful copper opening gate, shade arbors are just the thing to make your backyard feel more inviting.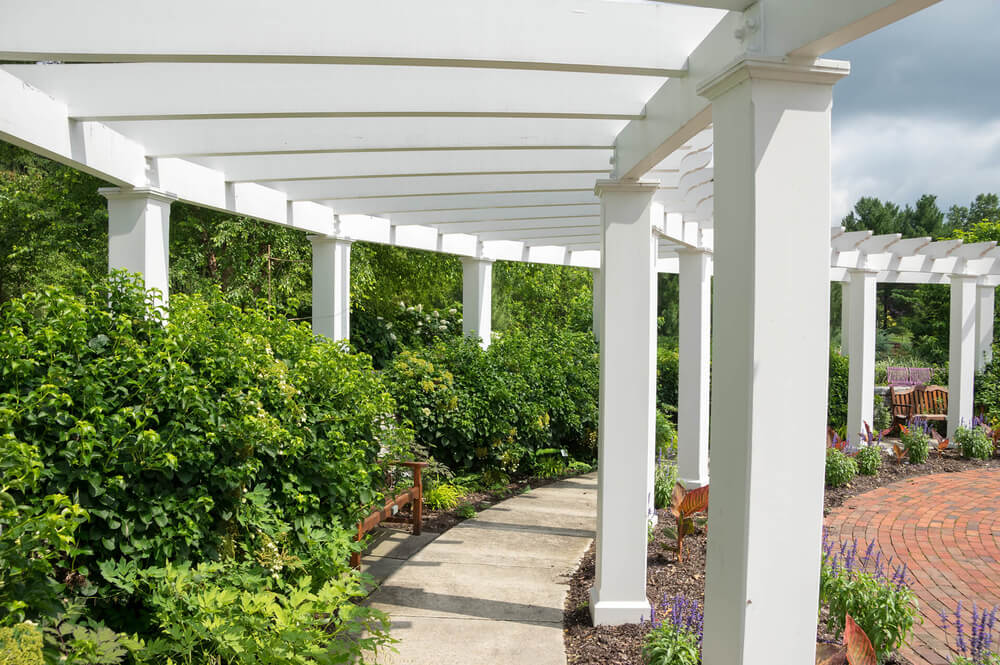 ARBOR FEATURES

Shade arbors add character and charm to your backyard while also providing several benefits and features. This simple structure offers your family and guests protection from the weather, ensuring their comfort at your next backyard bbq, pool party or any other outdoor event. Backyard arbors are versatile structures and can be made from high quality materials like insect and rot resistant wood, rust-proof iron or durable P.V.C plastic. Work with our design experts to choose the color, style and type of shade arbor that's perfect for your backyard.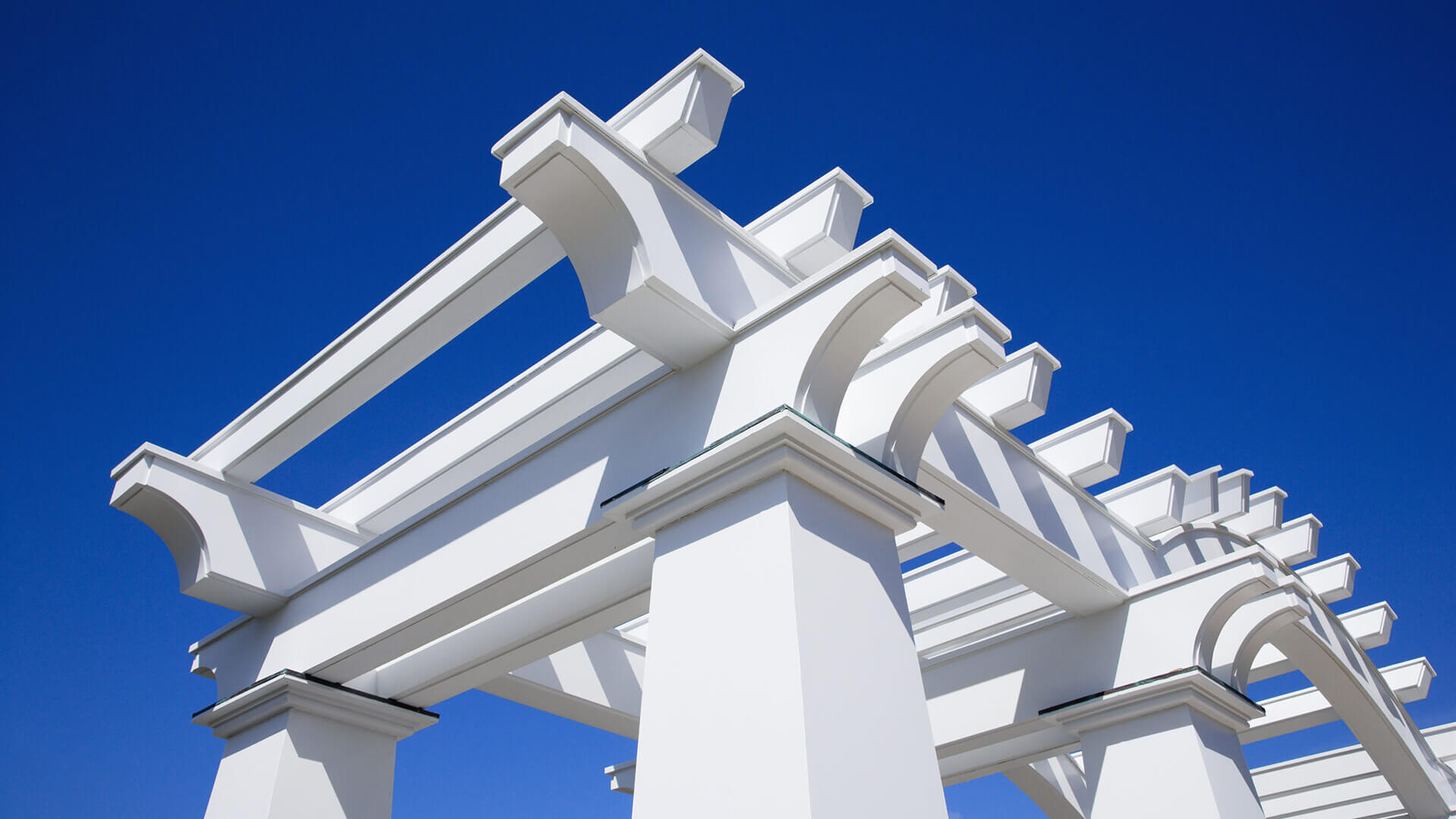 Arbor Column
Can be made of solid wood or metal.

Double Stacked Beams
Double stacked beams from cedar, engineered, or even metal beams. It can also be painted and stained.

Pickets
Can be spaced closer to accommodate the use of polycarbonate roofing.

Arched Joist
A decorate arched joist.
Why are arbors perfect for Houston?
Houston is known for its sub-tropical climate and lush vegetation, making a backyard arbor the perfect outdoor accessory to any home. Relax in your custom built shade arbor while listening to crickets and watching fireflies on a balmy summer night. Or get some respite from the sun as you enjoy a glass of wine beneath stunning climbing flowers at sunset. Backyard arbors are a quick way to elevate the look of your backyard and give it some outdoor elegance.
Arbors Design Process
Shade arbors are a popular backyard addition because of their endless versatility. Our design experts take care of all the guess work and research, while keeping your outdoor living goals in mind, to determine which type of backyard arbor best suits your needs. During the design process, we will work with you to determine the function, shape, size, shade density, and foundation type of backyard arbor that works within building and environmental restrictions.
Our design and construction experts consider every aspect of your outdoor living space goals so that your backyard arbor adds to the look and feel of your home. From design concept to wood finish, our team of designers and craftsman guarantee excellence at every stage of the design process. You can relax knowing that your shade arbor will be well executed, consciously designed to add value to your home, and aesthetically pleasing.
Why Custom Arbors?
Don't compromise craftsmanship, style, quality and the added value to your home by electing for a prefabricated shade arbor. Choosing a custom-built arbors allows for an extension of your home that's true to its style. Let our reputation as Houston's premier outdoor living design-build company speak for itself and trust us to bring your backyard retreat to life no matter the size of your budget.
From traditional to modern and from old to new, our designers have the experience and expertise to craft incredible outdoor spaces no matter the style. Each job is different, which is why we take pride in the flexibility our designs offer.
Enhance Your Arbor
Enjoy relaxing under your arbor around the clock. Install equipment designed to maintain comfort outdoors. Treat yourself to a leisurely stroll illuminated by fashionable lanterns that adorn your arbor. Make your cozy sitting area a bit warmer with electric heaters and sconces. Have fun accessorizing your arbor in a manner that complements your unique lifestyle.
Ready to get started? Browse the suggested selection below. Or view these luxurious accessories in person today by visiting our conveniently located retail store.
Speak with a Designer
Meet with your design experts to find the perfect style and fit for your outdoor space.
Customer Stories
"I highly recommend Creekstone Custom Living. They are extremely professional and strive to meet your particular needs. It is truly a custom job."
---
Creekstone Outdoor Living
2017-10-31T08:37:52-05:00
"I highly recommend Creekstone Custom Living. They are extremely professional and strive to meet your particular needs. It is truly a custom job."
https://creekstoneoutdoors.com/testimonials/testimonial-01/
"Sam Hickey and Creekstone Outdoors is an exemplary company with excellent customer service and satisfaction. I HIGHLY recommend Creekstone Outdoors! You will be in awe of the finished project."
---
Creekstone Outdoor Living
2017-10-31T08:38:21-05:00
"Sam Hickey and Creekstone Outdoors is an exemplary company with excellent customer service and satisfaction. I HIGHLY recommend Creekstone Outdoors! You will be in awe of the finished project."
https://creekstoneoutdoors.com/testimonials/testimonial-02/
"Excellent design and execution. Responsive customer service after construction. We receive lots of compliments from our guests."
---
Creekstone Outdoor Living
2017-10-31T08:38:50-05:00
"Excellent design and execution. Responsive customer service after construction. We receive lots of compliments from our guests."
https://creekstoneoutdoors.com/testimonials/testimonial-03/
"They did a professional, timely, and beautiful job."
---
Creekstone Outdoor Living
2017-10-31T08:39:32-05:00
"They did a professional, timely, and beautiful job."
https://creekstoneoutdoors.com/testimonials/testimonial-04/
"They listened to what we wanted and collaborated with us rather than trying to tell us what they wanted to build. In addition, we also had a very tight time frame for completion and they made it happen! Although I do not practice, I have an architecture degree and spent my college years interning with custom home builders and I can honestly say that their quality and attention to detail is top notch. I would build with them again without hesitation!"
---
Creekstone Outdoor Living
2017-10-31T08:40:13-05:00
"They listened to what we wanted and collaborated with us rather than trying to tell us what they wanted to build. In addition, we also had a very tight time frame for completion and they made it happen! Although I do not practice, I have an architecture degree and spent my college years interning with custom home builders and I can honestly say that their quality and attention to detail is top notch. I would build with them again without hesitation!"
https://creekstoneoutdoors.com/testimonials/testimonial-05/
0
Creekstone Outdoor Living