CABANA TYPES
Backyard cabanas are customized to create any kind of recreational area. Think of them as additional rooms outside the walls of your home that add to its value and beauty. Have a pool? An outdoor cabana, compete with changing rooms and an outdoor cocktail bar, elevates the experience of a pool-side bbq. Want to show off your green-thumb? View your landscaped masterpiece lounging beneath the cool breeze of a ceiling fan or the warmth of an outdoor heater. A patio cabana gives you all the features you can imagine, from special lighting accents to extra storage
BENEFITS & FEATURES OF CABANAS
Some of the most important benefits to having a backyard cabana are the added storage and increased property value they provide. Outdoor cabanas keep your pool or backyard accessories in one place when in use or during the winter without taking up space in your home or garage. A backyard cabana complete with changing areas and bathrooms keeps your house in pristine condition during pool parties and outdoor entertaining. Patio cabanas can also become great spaces for a home gym, studio or a luxurious room for guests. Our outdoor cabanas are custom built to give your pool or backyard that extra pizzazz, no matter the size of your budget.
Our outdoor cabanas add to value of your home in a variety of ways and are one of the best investments you can make as a homeowner. Make new memories with your family and friends while enjoying the outdoors from your backyard cabana.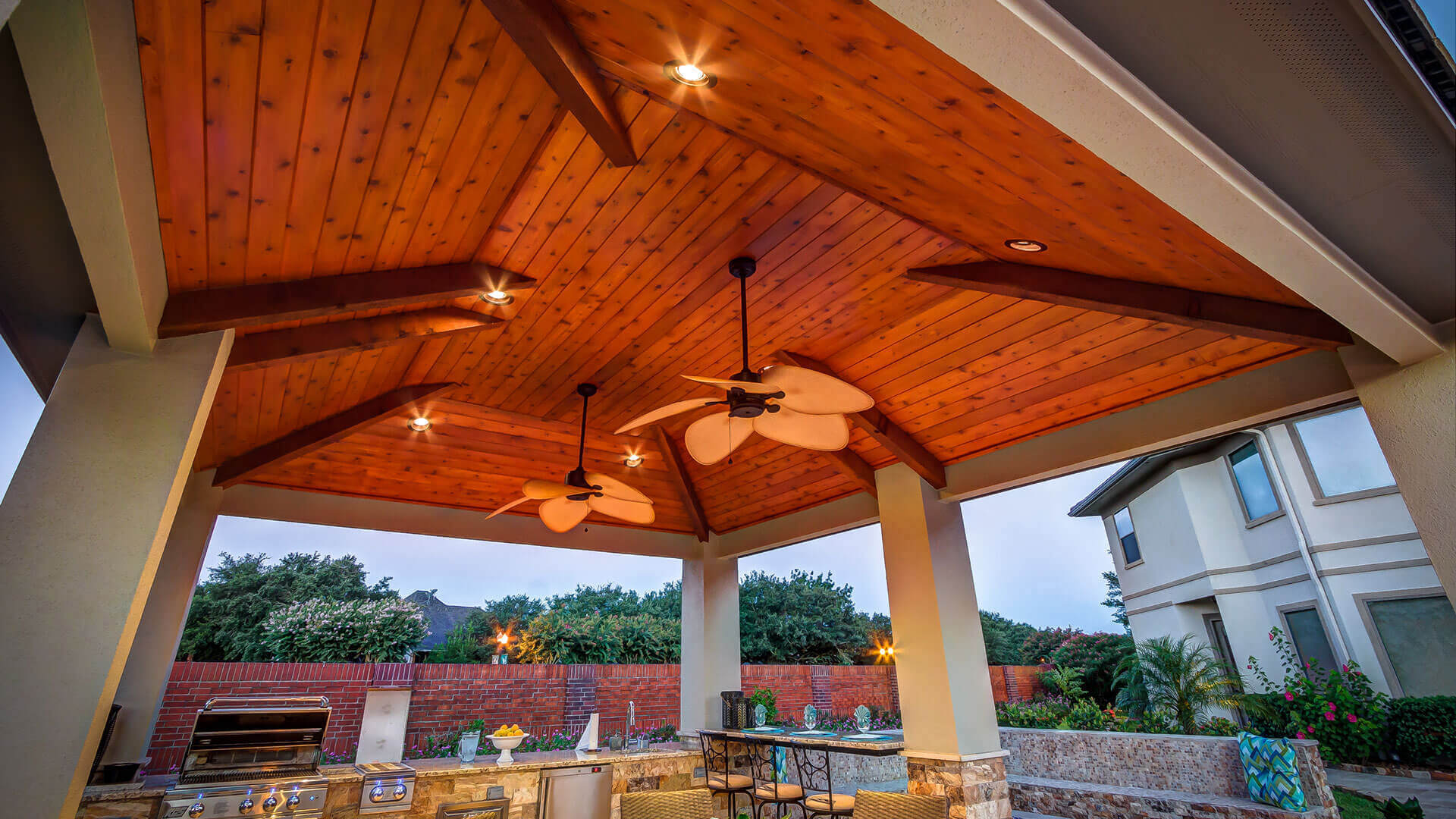 Wood Ceiling
A stained tongue & groove pine ceiling which can also be painted or stained from a lighter color to a darker color.

Outdoor Rated Ceiling Fan
Air circulation is essential in outdoor spaces.

Recessed Can Lighting
Use a regular bulb or go LED in your lighting setup.

Stucco Finished Column
Each column can vary; from wood column & stone pedestal or full height stone or brick columsn.

Exposed Decorative Rafters
Adding decorative elements to an outdoor space adds character.

Floating Bar
Granite floating bar that was field measured and field cut for a perfect fit.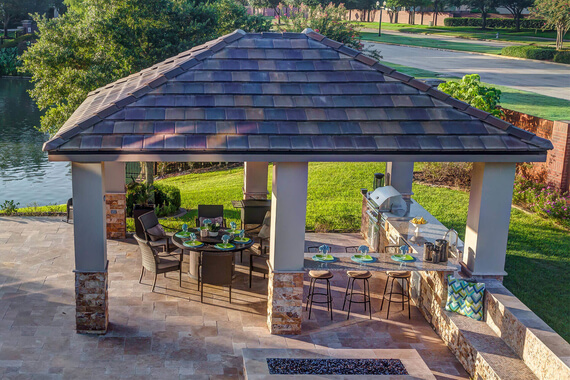 Why Are Cabanas perfect for Houston?
An outdoor cabana makes any day or night special regardless of the time of year. Enjoy a hot Houston summer day from the cool shade of your air conditioned patio cabana or stay warm and toasty during a winter bbq. No matter what kind of event you are hosting, whether it's an at-home happy hour with friends in the fall, or a kid's spring time birthday party, an outdoor cabana is sure to make your next outdoor event a hit.
Cabana Design Process
Backyard cabanas can be designed to be simple or luxurious, depending on your needs. Our design help you determine which type of patio cabana best suits your outdoor living space and take care of all the details and research. Our design process includes consideration of the function, shape, size, shade density, and foundation type of your outdoor cabana and remains within building and environmental restrictions.
So that your patio cabana adds to the look and feel of your home, our design and construction team executes your outdoor living space specifications to a T. From your backyard cabana's design planning to the types of building materials we will use, our designers and craftsman guarantee an unparalleled level of excellence throughout the entire design process. Our goal is you peace of mind knowing that your outdoor cabana will be beautiful built to meet your goals
Why Choose Custom-Built Cabanas?
Custom-built outdoor cabanas are the only way to guarantee a uniform aesthetic to your home, making your entire space, indoor and outdoor, unique to you. Our team of seasoned craftsmen and design experts know the value a well-constructed backyard cabana can add to any home. We only use only high-quality materials and include the best amenities.
Stylize Your Cabana
Create an innovative recreational area. Transform your cabana into a fully equipped outdoor living space. Cook up a tasty meal for family and friends beneath the cabana on your favorite grill. Protect your edibles from pests and maintain the freshness of your food by storing each delicacy in your cabana's refrigerator. Embark upon the journey to accessorizing your cabana by surveying the selection below.
Can't decide which grill you like best? Visit our retail store today and check them out on the showroom floor.
Speak with a Designer
Meet with your design experts to find the perfect style and fit for your outdoor space.
Customer Stories
"I highly recommend Creekstone Custom Living. They are extremely professional and strive to meet your particular needs. It is truly a custom job."
---
Creekstone Outdoor Living
2017-10-31T08:37:52-05:00
"I highly recommend Creekstone Custom Living. They are extremely professional and strive to meet your particular needs. It is truly a custom job."
https://creekstoneoutdoors.com/testimonials/testimonial-01/
"Sam Hickey and Creekstone Outdoors is an exemplary company with excellent customer service and satisfaction. I HIGHLY recommend Creekstone Outdoors! You will be in awe of the finished project."
---
Creekstone Outdoor Living
2017-10-31T08:38:21-05:00
"Sam Hickey and Creekstone Outdoors is an exemplary company with excellent customer service and satisfaction. I HIGHLY recommend Creekstone Outdoors! You will be in awe of the finished project."
https://creekstoneoutdoors.com/testimonials/testimonial-02/
"Excellent design and execution. Responsive customer service after construction. We receive lots of compliments from our guests."
---
Creekstone Outdoor Living
2017-10-31T08:38:50-05:00
"Excellent design and execution. Responsive customer service after construction. We receive lots of compliments from our guests."
https://creekstoneoutdoors.com/testimonials/testimonial-03/
"They did a professional, timely, and beautiful job."
---
Creekstone Outdoor Living
2017-10-31T08:39:32-05:00
"They did a professional, timely, and beautiful job."
https://creekstoneoutdoors.com/testimonials/testimonial-04/
"They listened to what we wanted and collaborated with us rather than trying to tell us what they wanted to build. In addition, we also had a very tight time frame for completion and they made it happen! Although I do not practice, I have an architecture degree and spent my college years interning with custom home builders and I can honestly say that their quality and attention to detail is top notch. I would build with them again without hesitation!"
---
Creekstone Outdoor Living
2017-10-31T08:40:13-05:00
"They listened to what we wanted and collaborated with us rather than trying to tell us what they wanted to build. In addition, we also had a very tight time frame for completion and they made it happen! Although I do not practice, I have an architecture degree and spent my college years interning with custom home builders and I can honestly say that their quality and attention to detail is top notch. I would build with them again without hesitation!"
https://creekstoneoutdoors.com/testimonials/testimonial-05/
0
Creekstone Outdoor Living