TYPES OF PATIO COVERS

A patio has the potential to become your private oasis. Patio covers are a great way to add sun protection to your outdoor living space so you and your guests can enjoy your backyard retreat in comfort.  Outdoor patio covers come in a variety of styles and sizes to fit your style and needs. Our team of designers can provide you with many cloth, lattice, or totally integrated patio cover design choices, giving you the freedom to choose what's best for you.
BENEFITS & FEATURES OF PATIO COVERS
There are numerous benefits to adding a covered patio to your Houston home that reach far beyond adding property value. Outdoor patio covers provide much needed shade to sunny backyard and can keep your home cooler during the summer months by protecting windows. Patio covers can also make your picnic or party all the more enjoyable for your family or guests.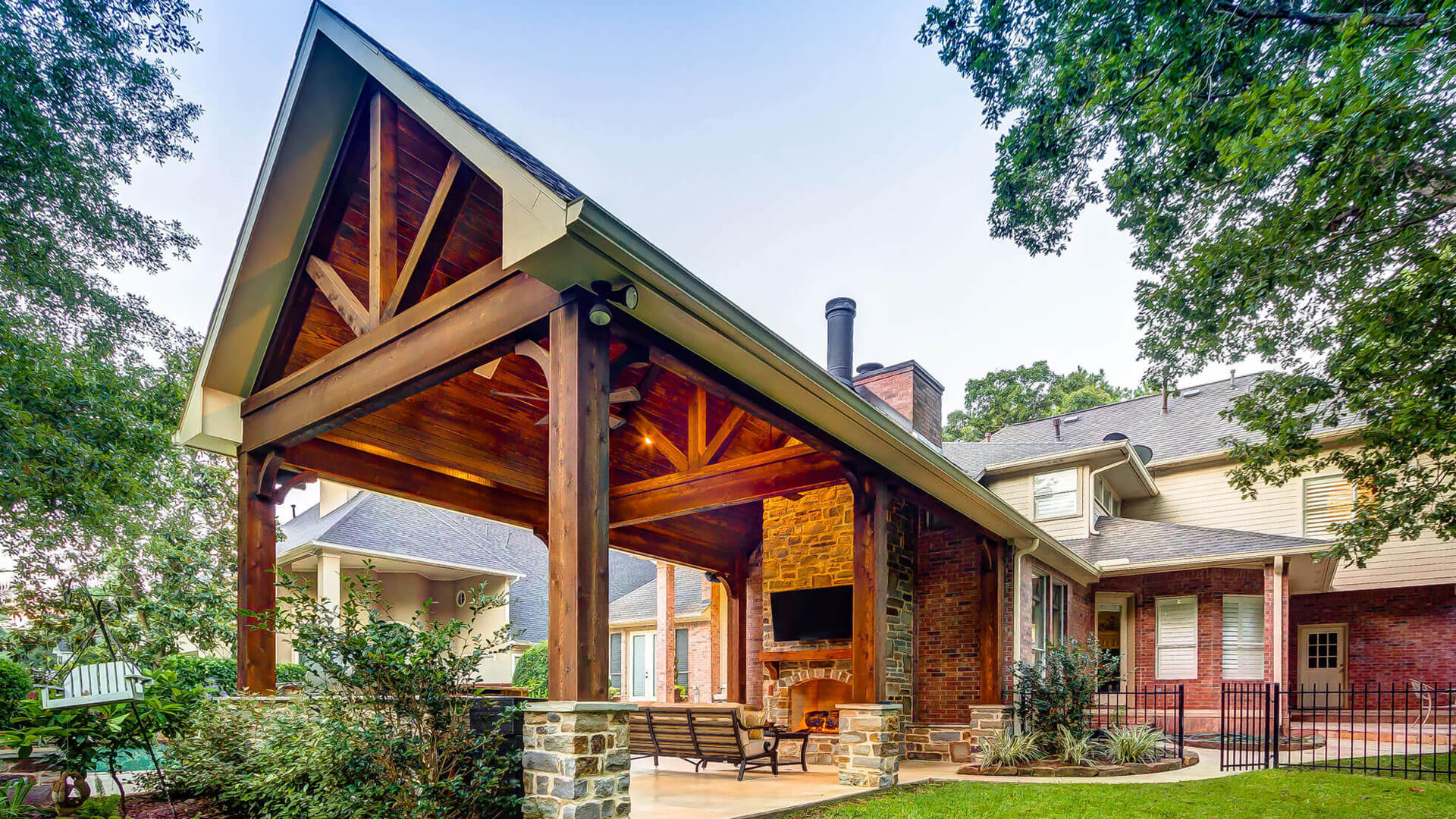 Exposed Truss
Solid cedar truss members and stained finish wood.

Wood Column
Wood column prewired for entertainment wrapped in a stained cedar board. Can also be a solid wood column as well.

Matching Roof
Exact matching of existing roofing materials using legacy options provided by the manufacturer.

Earth Pedestal
Full size stone pedestal with flagstone coping to cap the base.

Wood Ceiling
Tongue and groove pine ceiling which can be stained or painted, depending on your preference.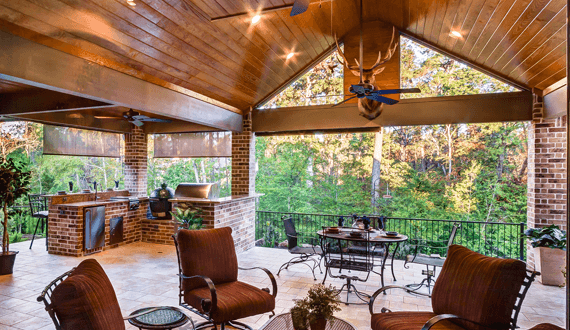 Why Are Outdoor Patios Perfect for Houston?
Our creative patio design ideas even allow you to enjoy one of the best things about Houston's weather. Sitting outside and enjoying our beautiful rain without getting wet. They are perfect for hosting a fun event or just enjoying the night accompanied by a cool breeze. Patio covers are a perfect addition to your home and can encourage your family to take advantage of your outdoor living space in style.
Patio Cover Design Process
Patio covers are a customer favorite addition because of their speedy installation and the immediate value adage to your home.  Our outdoor patio covers are designed in a variety of styles to fit your lifestyle and compliment the look of your home. Our design team will help you determine which type of patio cover works best for your home. Let our expert designers and craftsmen use their experience to create an inviting extension to your home that makes your outdoors more inviting. Our creative patio cover ideas coupled with our meticulous design process ensure the careful consideration of the style, size, and construction of your patio cover while remaining within building and environmental restrictions.
Our design and construction team will build your custom outdoor patio exactly how you want them to be built. We guarantee our patio designs will add to the value and aesthetic of your home and become your favorite space. Our designers and craftsman guarantee an unparalleled attention to detail throughout the entire design process in order to bring your vision to life.
Why Choose Custom-Build Patio Covers?
Prefabricated patio covers can seem like a convenient option but they will never truly fit your home's style. Our customized patio covers are built seamlessly and feel like they were part of your initial home design. You can count our history and success creating outdoor living spaces as your peace of mind. We are certain our patio cover ideas will spark your interest in this simple but smart investment.
Fun Patio Cover Accessories
Live life to the fullest. Smoothly transition from celebrating in your private paradise to partying on the beach. Load your favorite Yeti container with ice for tasty ice cold beverages on the go. Or bring delicacies made on the Big Green Egg to starve hunger as the fun times continue. The transportable accessories below are designed to complement your unique, on-the-go lifestyle.
Having trouble deciding which patio cover accessory you like the most? Visit our retail store today to review each item in person.
Speak with a Designer
Meet with your design experts to find the perfect style and fit for your outdoor space.
Customer Stories
"I highly recommend Creekstone Custom Living. They are extremely professional and strive to meet your particular needs. It is truly a custom job."
---
Creekstone Outdoor Living
2017-10-31T08:37:52-05:00
"I highly recommend Creekstone Custom Living. They are extremely professional and strive to meet your particular needs. It is truly a custom job."
https://creekstoneoutdoors.com/testimonials/testimonial-01/
"Sam Hickey and Creekstone Outdoors is an exemplary company with excellent customer service and satisfaction. I HIGHLY recommend Creekstone Outdoors! You will be in awe of the finished project."
---
Creekstone Outdoor Living
2017-10-31T08:38:21-05:00
"Sam Hickey and Creekstone Outdoors is an exemplary company with excellent customer service and satisfaction. I HIGHLY recommend Creekstone Outdoors! You will be in awe of the finished project."
https://creekstoneoutdoors.com/testimonials/testimonial-02/
"Excellent design and execution. Responsive customer service after construction. We receive lots of compliments from our guests."
---
Creekstone Outdoor Living
2017-10-31T08:38:50-05:00
"Excellent design and execution. Responsive customer service after construction. We receive lots of compliments from our guests."
https://creekstoneoutdoors.com/testimonials/testimonial-03/
"They did a professional, timely, and beautiful job."
---
Creekstone Outdoor Living
2017-10-31T08:39:32-05:00
"They did a professional, timely, and beautiful job."
https://creekstoneoutdoors.com/testimonials/testimonial-04/
"They listened to what we wanted and collaborated with us rather than trying to tell us what they wanted to build. In addition, we also had a very tight time frame for completion and they made it happen! Although I do not practice, I have an architecture degree and spent my college years interning with custom home builders and I can honestly say that their quality and attention to detail is top notch. I would build with them again without hesitation!"
---
Creekstone Outdoor Living
2017-10-31T08:40:13-05:00
"They listened to what we wanted and collaborated with us rather than trying to tell us what they wanted to build. In addition, we also had a very tight time frame for completion and they made it happen! Although I do not practice, I have an architecture degree and spent my college years interning with custom home builders and I can honestly say that their quality and attention to detail is top notch. I would build with them again without hesitation!"
https://creekstoneoutdoors.com/testimonials/testimonial-05/
0
Creekstone Outdoor Living