Make your backyard the talk of the neighborhood with exceptional outdoor kitchen appliances. Instead of being stuck inside, you and your guests can bring the party outside with all of your necessary equipment within arm's reach.
Are you ready for your next backyard party?! Make sure your outdoor kitchen has these 5 appliances!
Click To Tweet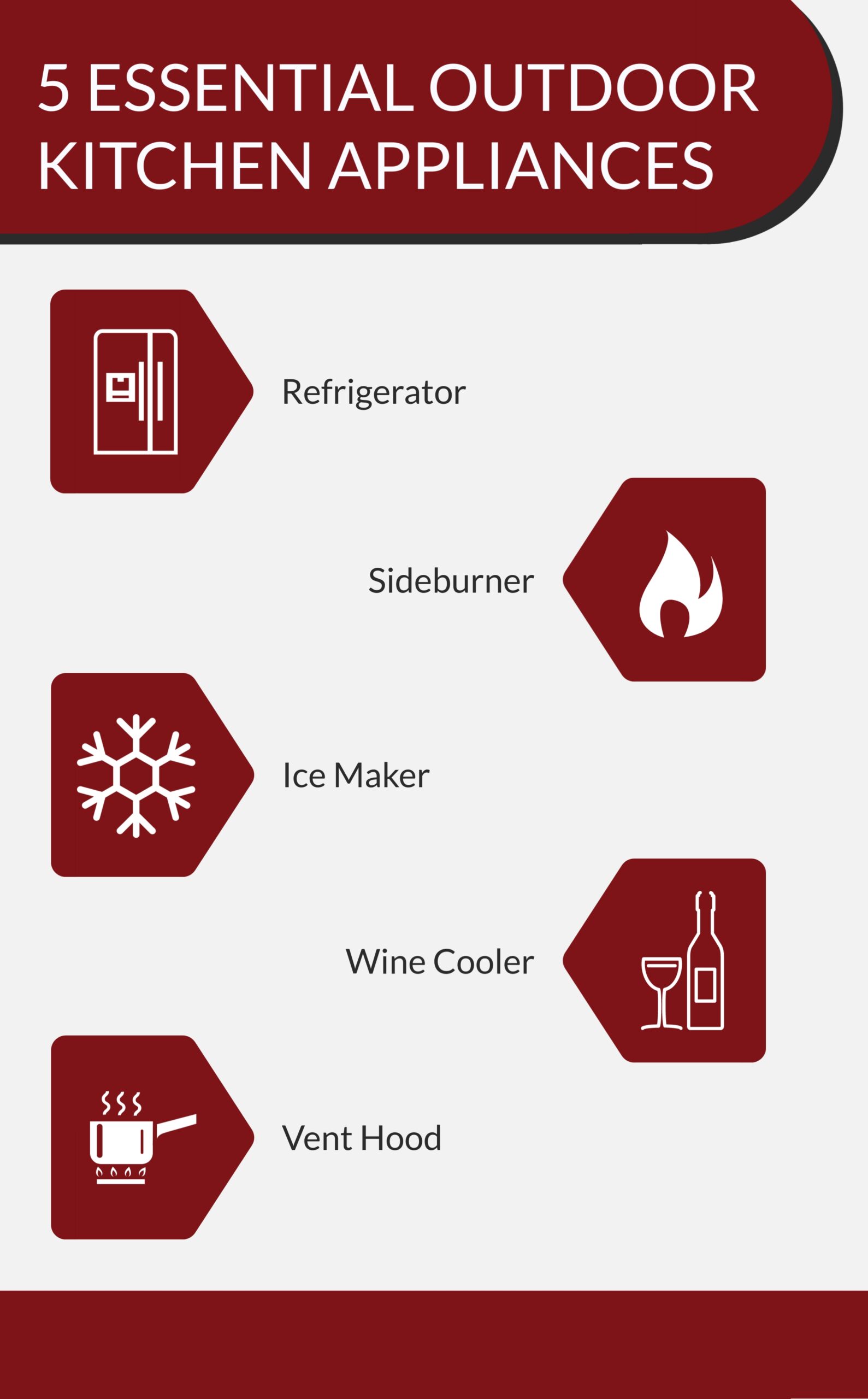 How functional is your Houston outdoor kitchen?
How are you going to use your outdoor kitchen? The goal is for you to have a fully-functioning kitchen so that you keep all of your food preparation in one place. Make sure these 5 outdoor kitchen appliances are on your list:
Refrigerator

Sideburner

Ice Maker

Wine Cooler

Vent Hood
1) Refrigerator
Besides countertops or a sink, a refrigerator is a top feature to have in your outdoor kitchen. Keep your drinks and fresh veggies cold with a fully-functioning fridge installed within your cabinets. Depending on the size of your space, you have the option of choosing a refrigerator/freezer combination or a two-drawer fridge to suit your needs.
Pro Tip: If you're a lover of wine and regularly entertain guests, consider installing a wine cooler for extra convenience in your backyard. 
2) Side burners
When you're outside entertaining your guests, cooking is a great way to bring everyone together. Be sure to add side burners to your outdoor kitchen for increased functionality and flexibility. Whether you need a double burner or a single side burner, there are multiple models to choose from to customize your kitchen however you'd like.
3) Ice Maker
There's nothing like having a drink that's lukewarm. Have ice readily available with an ice maker installed in your outdoor kitchen. Instead of having to run to the store, you can have up to 55lbs of clear ice available year-round.
4) Outdoor Grill
Instead of having a separate charcoal or gas grill on your back patio, install an outdoor grill directly within your cabinetry. From built-in griddles to grills with rotisserie, there are a number of options to make your grilling experiencing fit your appetite. 
5) Pizza Oven
Take your outdoor cooking to a new level with a pizza oven that can be fully accessed outside. From pool parties to weekend gatherings, your guests will love the authentic pizza taste that comes from cooking in a pizza oven.
The Difference that Counts
When you're designing your outdoor kitchen, don't forget to choose appliances that will work for your family. There's nothing worse than having an appliance that takes up space and isn't being used. Instead, choose appliances that will give your outdoor kitchen the functionality it deserves.
Did your favorite appliance miss the list? Connect with one of our outdoor kitchen designers for more information.