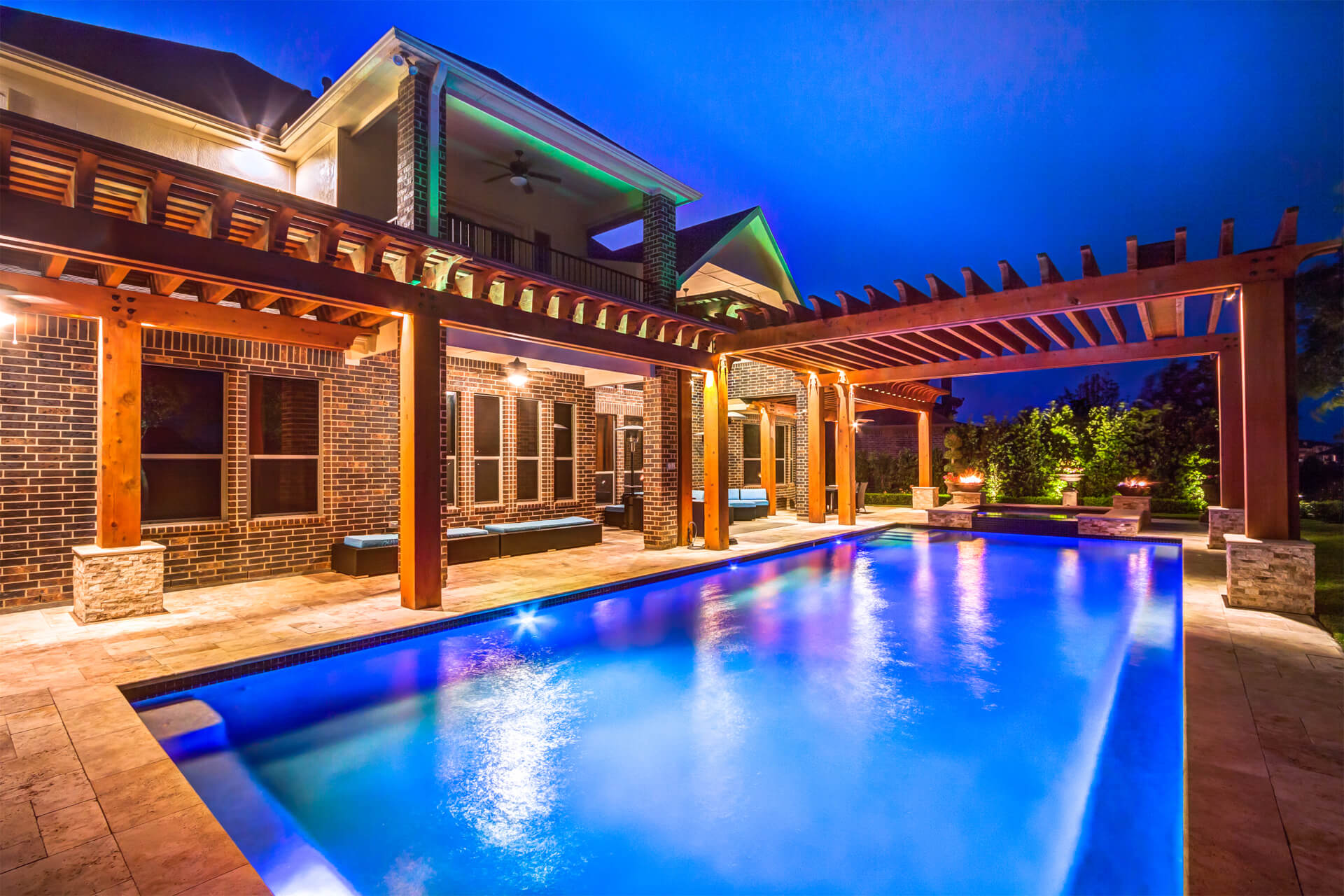 By extending the classic, standalone Pergola, this exquisite layout enhances the entire backyard and offers the viewer an example of high-quality living.
The stained cedar woods smooth finish complements the travertine and brick textures in an elegant juxtaposition that will last for years to come.
To create an exciting and festive mood, LED lighting strips were installed. Each of the remote controlled lights collectively improves the ambiance of the outdoor living environment at night, for a friendly and inviting feeling.
A close up of the Pergola architecture reveals transformed cedar wood into an impressive display of quality. Each curve and conjuncture are designed to encourage the eye to eagerly flow across the 1255 square foot scene.
Onlookers will be delighted and captivated as they marvel over the impressiveness of the flowing waterfall. Fortunately, the well-engineered and durable structure reveals few secrets to guests.
Viewing the outdoor living area at night is an exciting feast for your eyes. Twenty low voltage lights with LED bulbs, two transformers, and five switches provide a customizable light display that is perfect for parties.
All of the electrical work is well hidden within the framework and the weather resistant polycarbonate roof. This 755 square foot raised roof offers a modern and aesthetically pleasing addition to their home.
The Rymer kitchen features a Fire Magic A660 grill and accompanying Fire Magic premium refrigerator 3590DR. For storage, Fire Magic 53810 Double Drawer Door and 53920SR Single Drawer were added to match the appliances.
The undermount RCS sink with faucet was linked with the home's existing plumbing for ease of use.
Fire Magic grills are proudly made in the USA since 1937. The A660 exclusive E-shaped cast stainless burners provide durability, backed by a lifetime warranty.