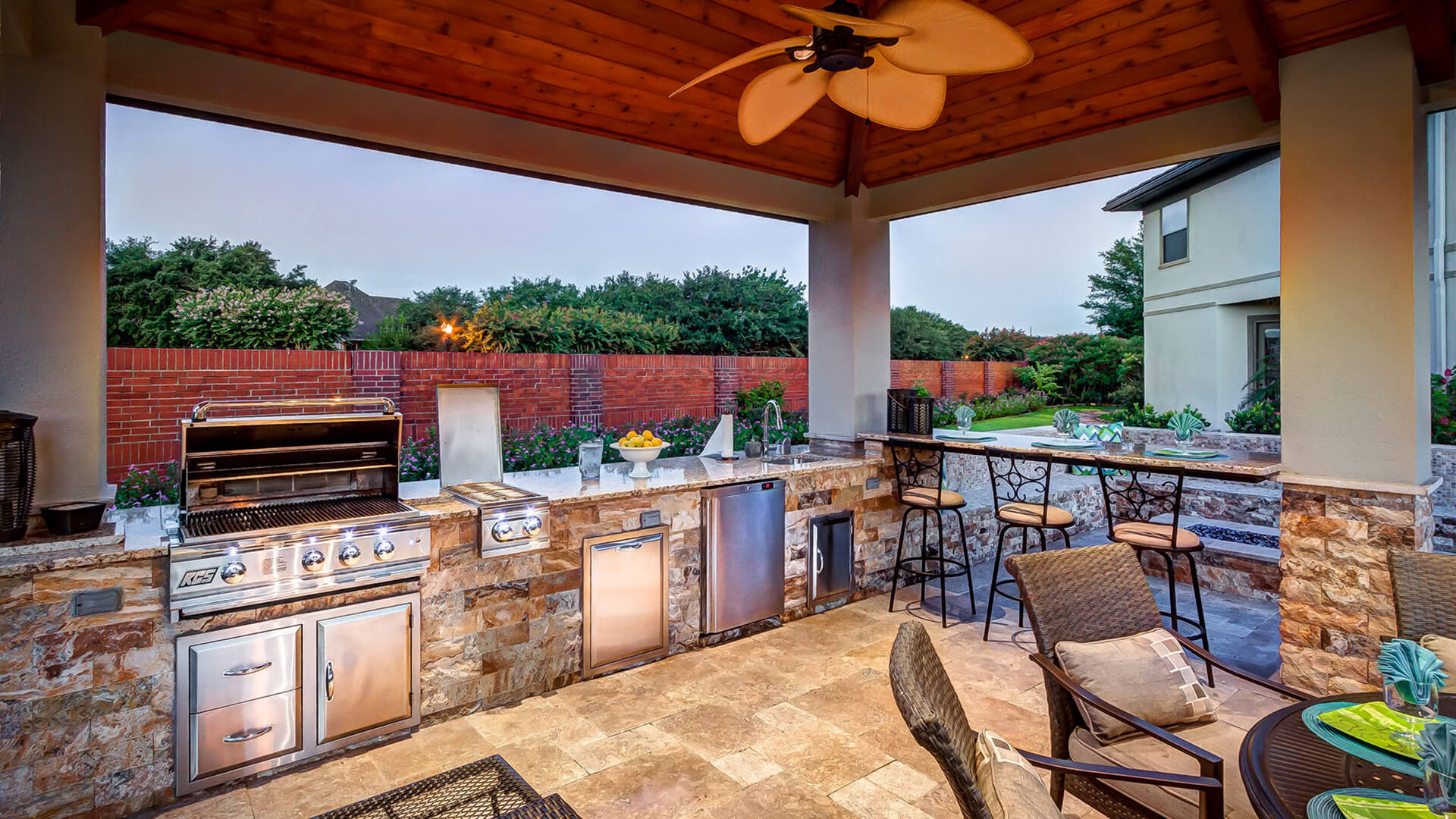 This picture perfect setting is located just steps away from the house and includes all the amenities for outdoor entertaining.
Between the dining table, the floating bar and the adjacent fire pit and wrap around bench there is more than enough room for all your guest to sit.
When the temperature drops, a custom fire pit glows with just the right amount of heat to take the chill off.
A striking aerial view of the cabana shows the tile roof that matches the homes existing roof.
The floating bar provides a spectacular view of the summer kitchen. Family and friends are invited to pull up a stool and socialize with the chef during meal preparation while enjoying their favorite beverage.
When the temperature drops, adjacent patio with built-in seating is a great spot for after dinner drinks and casual conversations to wind down the festivities.
The soaring stucco columns that support the vaulted ceiling mirror the homes exterior so seamlessly that you would never know the cabana was not constructed at the same time.
The cabana provides ample cooking and dining space to host gatherings for friends and family. The materials were selected to tie in as a natural extension of the existing home.
The Shapiro's summer kitchen alongside the swimming pool and spa complete this homes outdoor oasis.
Granite countertops and stainless steel appliances shine under the cabana. The kitchen is composed of a RCS Ron30 cutlass pro grill and an additional RCS double side burner. Cool things down with a RCS UL outdoor refrigerator and the matching RCS under mount sink with faucet that was collected to the house's existing utilities. For storage RCS double drawer/door, single door and trash drawer were incorporated.