On a summer evening in Houston, few things are more satisfying than sitting down to a freshly grilled backyard dinner. And why restrict yourself to just grilling steaks? A versatile grill like the Big Green Egg can cook everything from meat to vegetables and even pizza! Try something new for dinner tonight.
Have you experimented with recipes perfect for your backyard grill? Why not get started tonight? Check out these mouthwatering summer recipes! #Creekstone #backyardlife #recipes Click To Tweet
Easy Summer Weeknight Dinners
Some of these recipes require a little prep ahead of time, but every single one is remarkably easy and quick to prepare. Whip up some smoky, tasty treats with one of these delicious recipes:
Grilled oysters

Beer glazed beef ribs

Smoked chicken sandwich with chipotle mayo

Grilled pizza

Grilled tilapia with pineapple salsa

Stuffed burgers

Tequila lime grilled chicken

Kabobs

Honey soy grilled pork chops

Grilled veggies
1) Grilled Oysters
These savory, buttery oysters are sure to be a crowd-pleaser for a big event or a casual home dinner.
Ingredients:
12 fresh oysters

6 tbsp butter mixed with roasted garlic, basil, and parsley

1 lemon

3 tbsp chopped fresh chives
Directions:
Your Big Green Egg will need to cook the oysters at 425 degrees Fahrenheit. Shuck the oysters and discard the flat top of the shell, keeping the bowl-shaped bottom half. Place the bowl-shaped shells on a perforated cooking grid. Add half a tablespoon of softened butter to each oyster. Place the grid inside your heated Big Green Egg grill and close the lid, letting the oysters cook for about 4 minutes or until bubbly. Serve the oysters garnished with lemon slices and chives.
2) Beer Glazed Beef Ribs
These ribs need a long time to cook, but all the waiting will be worth it at dinnertime!
Ingredients:
1 5-6 lb rack of short ribs

1 tbsp olive oil

1 tsp salt

½ tsp black pepper

6 cloves of garlic, minced

1 bottle dark beer of your choice
Directions:
Preheat the Big Green Egg to 265 degrees Fahrenheit. Remove the membrane from the ribs and brush them in olive oil. Season them with the garlic, salt, and pepper. Place in the Egg with the meat facing up for 2 hours, then flip and cook for 1 more hour. Pour the beer into a shallow heat-proof pan, place the ribs in the beer, and cover with foil. Place the pan back into the Egg for 3 more hours. Serve whole garnished with your favorite barbecue sauce.
3) Smoked Chicken Sandwiches with Chipotle Mayo
This recipe is provided courtesy of Chef Billy Parisi in partnership with Creekstone. You can find more details about this recipe on his website.
Ingredients:
For the chicken

6 fresh chicken breasts

3 tbsp brown sugar

1 ½ tsp dried oregano

1 ½ tsp onion powder

1 ½ tsp garlic powder

1 ½ tsp kosher salt

1 tsp ground mustard

¼ tsp ground ginger

¼ tsp chili powder

¼ tsp chipotle powder

¼ tsp paprika
Mix the herbs and spices together and rub over all sides of each chicken breast. Cover the chicken and let it marinate in the fridge for at least 2 hours or up to 48 hours. Smoke on your Big Green Egg for about 2 hours or until cooked all the way through. Wrap the chicken in aluminum foil and set aside for at least 30 minutes before cutting.
For the chipotle mayo

2 cups mayonnaise

3 minced chipotle peppers in adobo sauce

1 ½ tbsp red wine vinegar

1 tsp sugar

Salt to taste
Mix all ingredients together until well-combined. Store in the fridge until it's time to make the sandwiches.
Sandwich garnishes

3 sliced heirloom tomatoes

1 head butter leaf lettuce

2 thinly sliced avocados

2 cups packed shredded kale

24 strips bacon, cooked to taste

1 lb thinly sliced ham

12 fried eggs, cooked to taste

12 slices mozzarella cheese

12 slices pepper jack cheese

12 toasted sesame seed buns
Spread a thin layer of mayo on the inside half of each top bun. Add however much ham, chicken, and cheese you wish to the bottom buns and melt under a broiler. Stack the vegetables on the top bun. Once the cheese has melted, combine both halves for a completed sandwich. This recipe makes about 12 sandwiches.
4) Grilled Pizza
The smoky flavor of a grilled pizza is the perfect end to a Friday night!
Ingredients:
Enough pizza dough for a large pizza (homemade or store-bought)

2-3 tbsp olive oil

Salt to taste

However many toppings you like: sauce, cheese, meat, veggies, etc.
Directions:
Roll out the pizza dough and drizzle with olive oil and salt. Grill the dough for 2 minutes. Add your toppings and cook another 2-5 minutes or until done.
5) Grilled Tilapia with Pineapple Salsa
Combine sweet and savory flavors with tilapia hot off the grill!
Ingredients:
1 tilapia fillet per person

2 cups fresh cubed pineapple

2 green onions, chopped

¼ cup chopped green pepper

¼ cup chopped cilantro

4 tsp lime juice

Pinch of salt
Directions:
Mix the pineapple, onions, green pepper, cilantro, salt, and lime juice and refrigerate. Grill tilapia over medium heat until done. Serve spread with salsa.
6) Stuffed Burgers
Stuff a burger patty with cheese, bacon, veggies, or other fillings for a savory surprise.
Ingredients:
1 raw burger patty per person (or enough raw ground beef to make the patties yourself)

1 oz filling per patty: bacon bits, cheese, onions, peppers, etc.
Directions:
If using ground beef, shape the beef into patties. Press the center of each patty down and work the meat into a bowl-like shape. Fill each hollow with about 1 oz of filling. Make a "cap" with the remaining meat and press it onto the top of each patty to seal it shut. Grill burgers until well-done.
7) Tequila Lime Grilled Chicken
This chicken may require some preparation in advance, but the result is well worth it.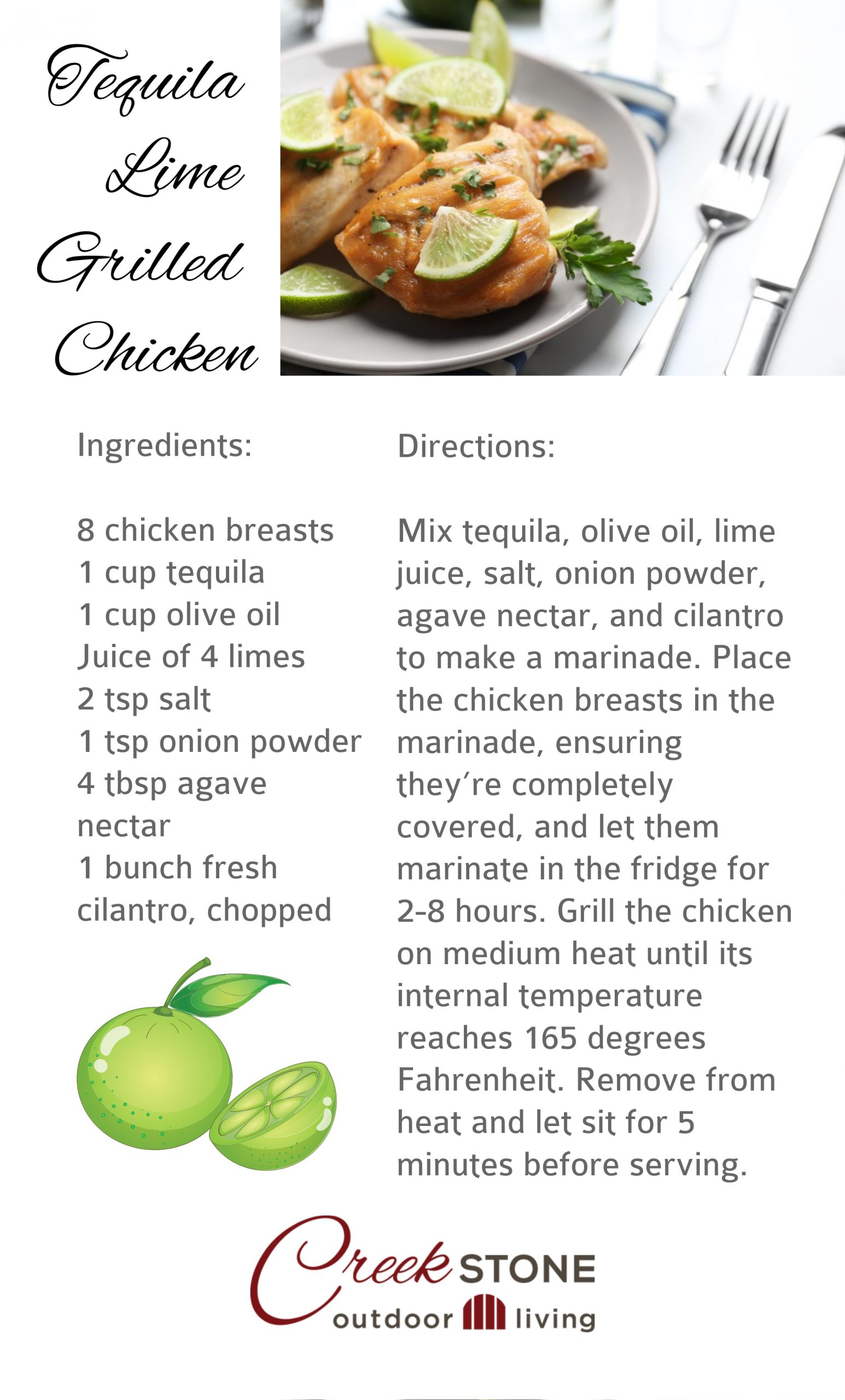 Ingredients:
8 chicken breasts

1 cup tequila

1 cup olive oil

Juice of 4 limes

2 tsp salt

1 tsp onion powder

4 tbsp agave nectar

1 bunch cilantro, chopped
Directions:
Mix tequila, olive oil, lime juice, salt, onion powder, agave nectar, and cilantro to make a marinade. Place the chicken breasts in the marinade, ensuring they're completely covered, and let them marinate in the fridge for 2-8 hours. Grill the chicken on medium heat until its internal temperature reaches 165 degrees Fahrenheit. Remove from heat and let sit for 5 minutes before serving.
Pro Tip: Marinating meat or veggies overnight before grilling brings an extra dimension of flavor to your dish. Experiment to find your favorite marinade!
8) Kabobs
Kabobs are an ideal dinner for picky eaters. With a huge list of potential ingredients and seasonings, everyone can build a kabob they'll love!
Ingredients:
3-4 oz meat per person (chicken, beef, or fish are all excellent choices)

Enough of your favorite marinades to treat all the meat

2 lbs chopped veggies (tomatoes, onions, bell peppers, zucchini, baby potatoes, corn, etc.)
Directions:
If using meat, marinate it overnight ahead of time. Choose your ingredients and slide them securely onto the skewer. Grill over direct heat for 10-15 minutes or until done.
9) Honey Soy Grilled Pork Chops
Another recipe that requires marinating, this one promises sweet, juicy results.
Ingredients:
8 pork chops

½ cup honey

1 cup soy sauce

4 garlic cloves, minced

Pinch of red pepper flakes to taste
Directions:
Mix honey, soy sauce, garlic, and pepper flakes to make a marinade. Submerge the pork chops in the marinade and allow to sit overnight in the fridge. Grill 8 minutes per side, remove from heat, and allow to sit for 5 minutes before serving.
10) Grilled Veggies
There's no shortage of grilling recipes for meat-eaters, but what about vegetarians? Fortunately, your grill can cook up some smoky, delicious veggies for anyone who wants them!
Ingredients:
1-1.5 cups veggies per person (corn, mushrooms, zucchini, peppers, asparagus, potatoes, etc.)

Enough of your favorite marinade to cover all the veggies (if marinating)

Salt and pepper to taste

Enough olive oil to coat all the veggies (if not marinating)
Directions:
If you choose to marinate the vegetables ahead of time, wash and chop them to the desired size. Prepare your marinade, submerge the veggies, and leave them in the fridge overnight. Grill until tender-crisp and serve hot.
If you'd rather not marinate the vegetables, you don't need to do as much preparation ahead of time. Wash and chop your vegetables to the desired size. Toss with olive oil, salt, and pepper until completely coated. Grill until tender-crisp and serve hot.
Summer Dinners for the Win!
Professional and amateur chefs alike will love the chance to grill something amazing on a warm summer evening. Experiment with different ingredients and proportions to find your favorite go-to recipe. Meanwhile, enjoy impressing your family with your newfound skills!
Join the conversation for more recipe ideas and outdoor cooking tips.