As social distancing measures continue and people are stuck at home, homeowners are coming up with more creative ways to pass the extra time they now have. Some are learning a new language or taking up a new hobby. Others are reviving old hobbies or trying to get better at them. If you're looking for ways to pass the time, why not practice your outdoor cooking skills? Fire up the grill and give these flavorful recipes a try!
An outdoor grilling session is the perfect way to pass time and get better at your cooking skills! Try out these recipes for a delicious dinner. #Creekstone Click To Tweet
What's on the Menu?
The most commonly grilled dishes involve meat, especially beef, but your grill is far more versatile than that. You can serve up everything from standard beef dishes to seafood and even grilled desserts! Find your new favorite grilled dish here:
Lemon grilled shrimp kabobs

Chili rubbed ribs

Salsa steak

Java pepper steak

Grilled pizza

Cheesy potatoes

Campfire cobbler

Grilled fruit
1) Lemon Grilled Shrimp Kabobs
⅓ cup lemon juice

2 tbsp olive oil

2 garlic cloves, minced

½ lemon zest

1 lb shrimp

Cherry tomatoes (as many as you'd like)

Sliced onions (as many as you'd like)
Mix together the lemon juice, olive oil, garlic, and lemon zest into a marinade, and let your shrimp and vegetables marinate for several hours or overnight. Thread everything onto barbecue skewers, sprinkle with salt and pepper, and grill on each side for approximately 3 minutes.
2) Chili Rubbed Ribs
6 lbs ribs

3 tbsp packed brown sugar

2 tbsp paprika

2 tbsp chili powder

3 tsp ground cumin

2 tsp garlic powder

1 tsp salt
Dry rub the ribs with all these seasonings and refrigerate covered for half an hour. Wrap the ribs in aluminum foil and grill over indirect heat for an hour and a half. Finally, mix together your glaze over medium heat for 6-8 minutes:
1 cup soy sauce

1 cup packed brown sugar

2-3 cup ketchup

1-3 cup lemon juice

1 ½ tsp fresh grated ginger
Unwrap the ribs, rub them with the glaze, and cook over direct heat for 30 minutes or until nicely browned.
3) Salsa Steak
4 portions of steak (size can vary)

1 large tomato, diced

1 small red onion, diced

1 small cucumber, chopped

Half yellow capsicum, diced

4 tbsp coriander, chopped

1 tbsp seeded mustard

Olive oil to brush steak
Brush both sides of the steak with olive oil and sear each side, 2-3 minutes for boneless cuts and 3-4 minutes for cuts with bones. For a medium or well done steak, lower the heat to medium and leave for an extra 1-2 minutes. Once the steak is cooked to your preferences, remove from heat and cover for about 2 minutes to settle. While you're waiting on the steak, mix up your salsa ingredients. Serve on the side.
4) Java Pepper Steak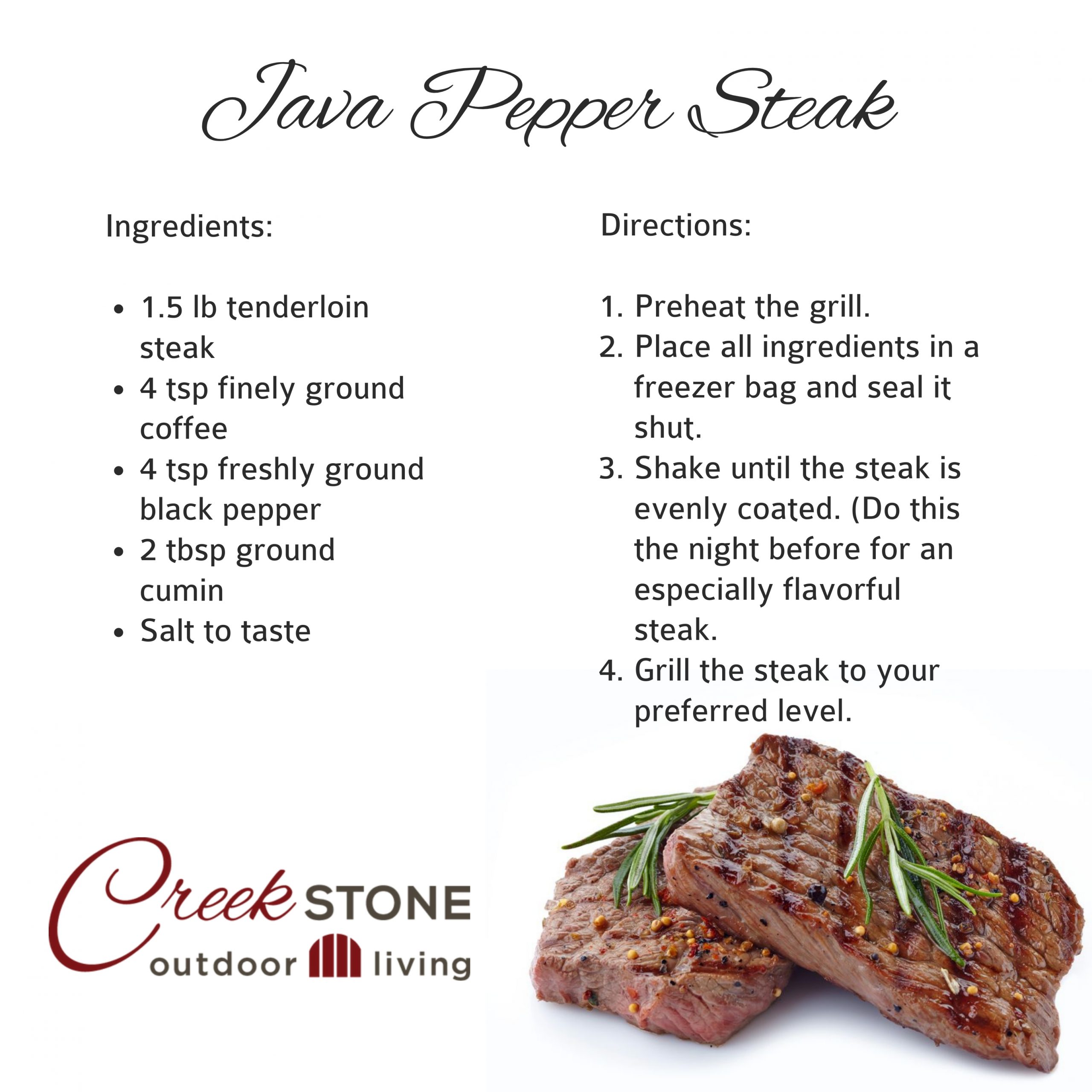 1.5 lb tenderloin steak

4 tsp finely ground coffee

4 tsp freshly ground black pepper

2 tbsp ground cumin

Salt to taste
Preheat your grill and while you wait for it to heat up, place all ingredients in a freezer bag and seal it shut. Shake the bag until the steak is evenly coated in the seasonings. Grill the steak to your preferred level.
Pro Tip: For an especially flavorful steak, rub it with spices and let it sit in the fridge overnight before grilling.
5) Grilled Pizza
Naan bread or pitas, one for each serving

Olive oil to brush crusts

Pizza toppings of choice
Brush both sides of the naan or pitas with olive oil and grill for 2 minutes on each side. Remove from heat, add your pizza toppings, and return them to the grill until the cheese has completely melted.
6) Cheesy Potatoes
2 ½ lbs potatoes, peeled and chopped

1 medium onion

5 strips of bacon, cooked and crumbled

¼ cup butter, melted

½ tsp salt

½ tsp black pepper

6 slices American cheese
Mix all ingredients except the cheese together and spread over a large piece of foil. Fold the foil tightly around the potatoes and grill for 15 minutes on each side. Open the foil and lay the cheese slices over the potatoes. Cover again and cook for 1-2 minutes or until the cheese is melted.
7) Campfire Cobbler
2 cans of fruit pie filling

1 package yellow cake mix

1 ¼ cups water

½ cup canola oil
Line a Dutch oven with aluminum foil and pour in both cans of fruit pie filling. In a separate bowl, mix together the cake mix, water, and oil. Spread the mix over the pie filling. Cook on the grill for 30-40 minutes or until the crust is browned.
8) Grilled Fruit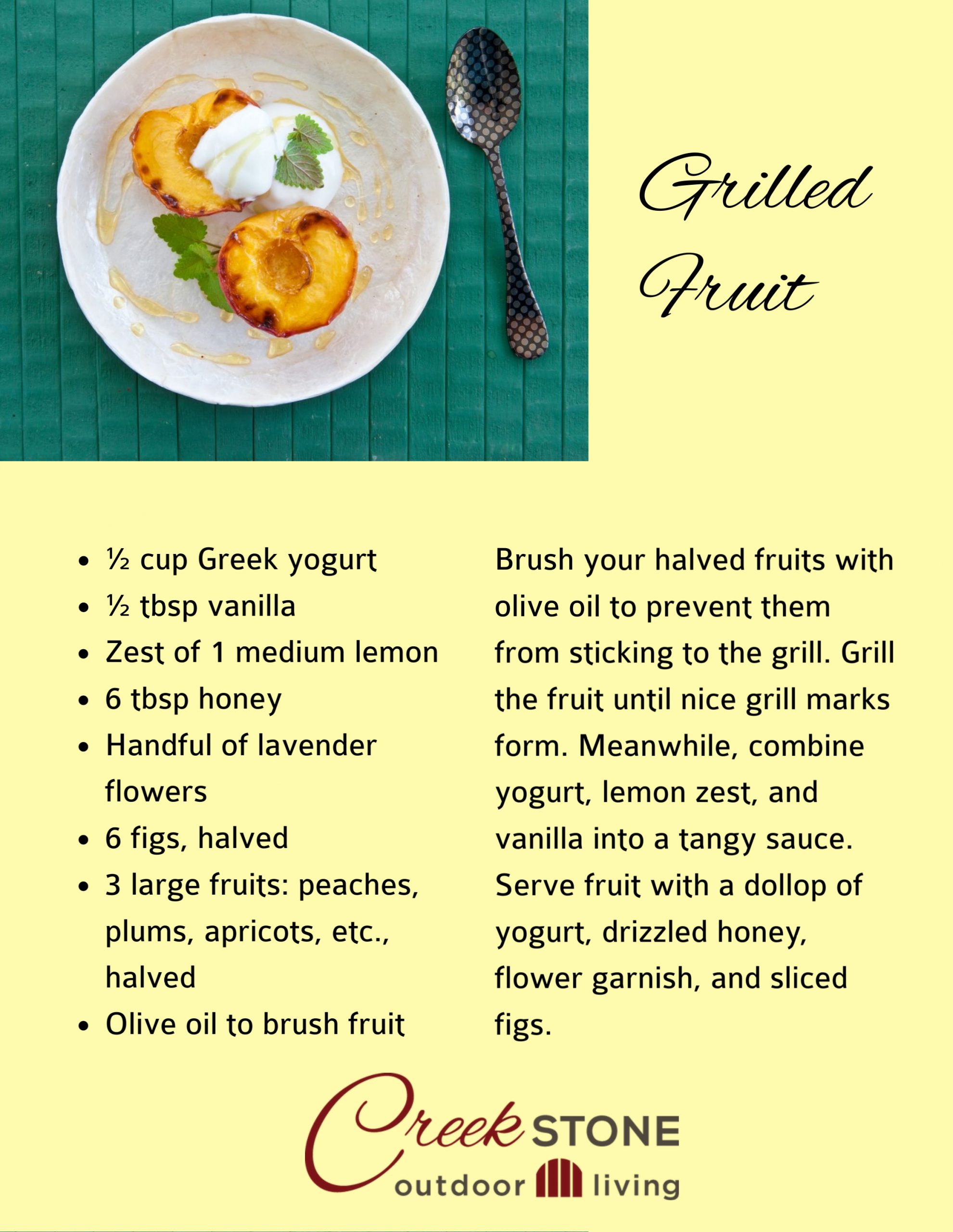 ½ cup Greek yogurt

½ tbsp vanilla

Zest of 1 medium lemon

6 tbsp honey

Handful of lavender flowers

6 figs, halved

3 large fruits: peaches, plums, apricots, etc., halved

Olive oil to brush fruit
Brush your halved fruits with olive oil to prevent them from sticking to the grill. Grill the fruit until nice grill marks form. Meanwhile, combine yogurt, lemon zest, and vanilla into a tangy sauce. Serve fruit with a dollop of yogurt, drizzled honey, flower garnish, and sliced figs.
Brush Up on Your Grill Skills
Few things are more comforting than a hot home-cooked meal prepared on your own grill. And what better way is there to stay fresh on your cooking skills? Give these recipes a try and serve up a great dinner tonight!
Connect with us for more recipes and cooking tricks for your grill.