Your newly refurbished backyard may have all the room for parties and relaxation that you want, but something's not quite finished yet. Anyone can renovate the yard. But why not make your backyard party space unique to you? Don't settle for a simple renovation.
Does your backyard paradise need a few finishing touches to make it personal? Find inspiration for outdoor decor here! #Creekstone #backyarddesign #outdoorlife Click To Tweet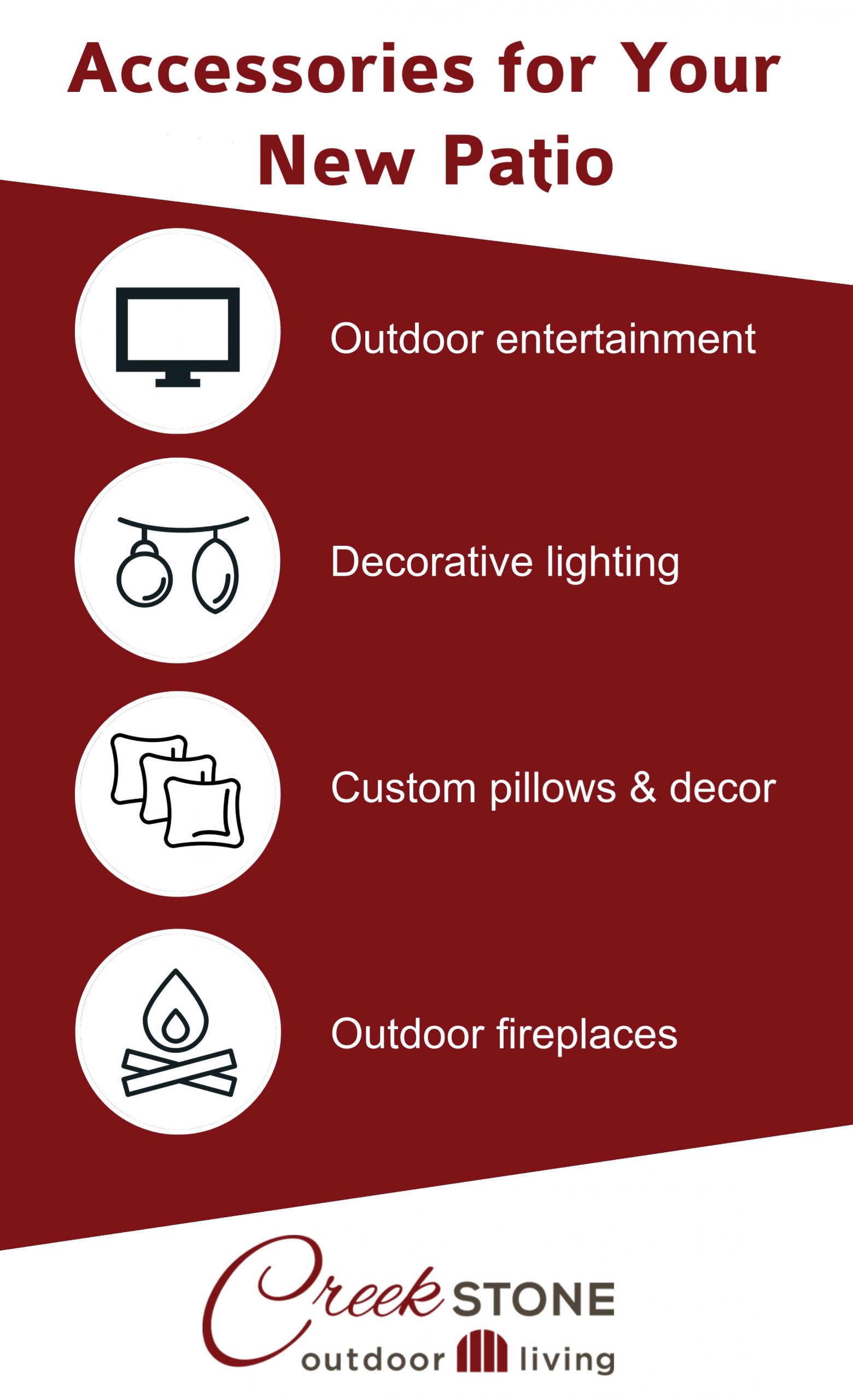 Personalized Accessories
Brand-new appliances and shaded spots certainly add a lot to your backyard, but they can also feel a bit "standard" on their own. Every homeowner decorates their house's interior with personal artwork and furniture–why not give the exterior the same treatment? Try personalizing your backyard with one of these ideas:
Entertainment

Outdoor pillows

Fire pit

Decorative lighting
1) Entertainment
What's more fun than a movie night under the patio on a beautiful night? A patio cover with large enough walls provides the perfect spot to mount a large TV or even a projector screen. Build an outdoor home theater to host movie nights in your own backyard!
2) Outdoor Pillows
If you'll be spending a fair amount of time outside, you'll likely want to include weatherproof furniture. But many weatherproof materials aren't exactly comfortable to sit on. Outdoor-safe pillows, however, can fix that! Add a splash of color and comfort to your backyard furniture.
Pro Tip: Cushions made of outdoor-safe material require different care than indoor pillows. Make sure not to damage them when you clean outside.
3) Fire Pit
Anyone who loves cooking over open flames will love having a fire pit in the newly renovated backyard! Aside from its functional purpose, fire features add an exotic atmosphere to your backyard space and keep parties going well into the night. Some homeowners even add fireproof glass fragments known as diamond nuggets to give the flames a magical effect. Customize your fire pit to complement your new private party space!
4) Decorative Lighting
Finally, as nice as a fire pit is, it can't provide as much light as some late-night parties will need. That's where other types of outdoor lighting come in. Stake lights situated along the sidewalks will show your guests where to walk, for instance. Lanterns provide a soft, ambient light for a relaxing atmosphere. And brighter lights mounted under the patio cover let you keep working in your outdoor kitchen. Just like any feature, you can customize your lighting choices to your heart's content.
Customize Your Outdoor Space
A brand new outdoor kitchen and dining room can do wonders to add appeal to your backyard. But why stop there? Add your own touch to make the space truly your own! Give yourself and your loved ones the gift of an awesome, personalized backyard.
Connect with us to see how some of our clients decorated their completed backyard paradises.