Creekstone Outdoor Living is pleased to announce that they have been honored as a 2018 Pinnacle Award Winner by Luxury Pools + Outdoor Living Magazine! Sam Hickey, the owner of Creekstone Outdoor Living, teamed up with Regal Pools to create an outdoor living masterpiece that won top honors for Ultimate Outdoor Entertaining Space.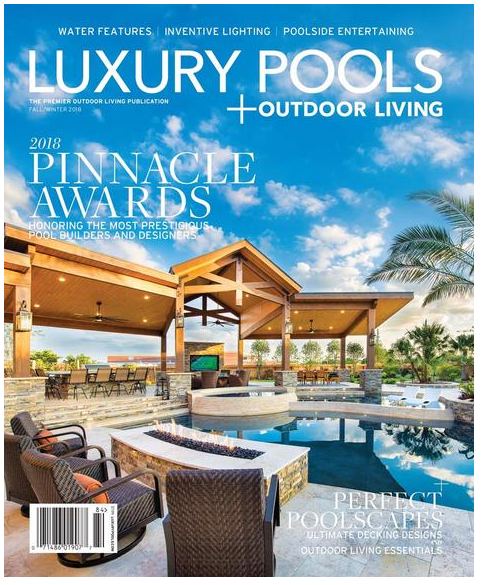 Luxury Pools + Outdoor Living Magazine 
Each year, the magazine Luxury Pools + Outdoor Living hosts the Pinnacle Awards honoring the most prestigious pool builders and outdoor landscape designers. Esteemed judges seek out outdoor projects that represent the year's best designs. Creekstone Outdoor Living's outdoor entertainment design wowed the judges and ended up being highlighted on the cover of the Fall/Winter 2018 issue. Copies of this issue are still available through the Luxury Pools + Outdoor Living website.
Ultimate Outdoor Entertaining Space
Creekstone Outdoor Living enjoyed creating the ultimate outdoor entertaining space with the help of Regal Pools. Their three-layered pool design caters to all ages and swimming preferences, and the 1,500 square foot covered outdoor living area is perfect for relaxing after a nice swim or eating a delicious meal cooked in the outdoor kitchen.
Creekstone Outdoor Design
This amazing project was created using all exposed Douglas fir beams, 12×12 solid columns with custom fabricated trusses and automated lighting to light up the night while you entertain friends and family. This same design also won the prestigious GHBA Prism Award (Greater Houston Builders Association) for best Outdoor Living Space.
Contact us to learn how you can get a beautiful, custom-designed outdoor living space for your own Houston-area home.