A Walk-through of the Lynx Napoli Pizza Oven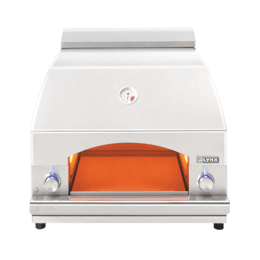 We all love barbecues and traditional barbecue foods: hot dogs, hamburgers, pasta salad, etc. But sooner or later, we get a bit jaded by the same dishes. We're sure many of you have the same feeling. Lucky for us, outdoor pizza ovens have become a new trend. Imagine delicious pizzas in addition to your traditional outdoor barbecue favorites!
Lynx is an American brand that specializes in high-end kitchen appliances. They feature outdoor grills, refrigeration, and storage. Their pizza oven is a new addition to their line of outdoor products and a way to "spice up" your outdoor cooking. So, is it worth your attention?
Napoli Pizza Oven Features And Specs
This oven has a very stylish, sleek, stainless steel exterior with contemporary blue LED lights and hand-polished mirror edges. No doubt, it is made to impress at first sight. The dome is made of a refractory material that reflects heat onto the cooking surface made of quality ceramic. To make cooking more convenient, the baking stone pulls out so you can check on your food and pull your pizza off with the pizza peel. The top of the oven is chimney reversible, meaning you can vent either towards the front or rear.
It features 400 square inches of cooking surface, infrared heating, and a concrete refractory dome. Most pizza ovens have a direct flame burner; the Napoli Pizza Oven is equipped with two infrared burners rated for 40,000 BTUs of power. It allows the oven to heat up quickly and is ready for baking in one minute. The whole pizza is baked in five minutes, which is much faster than if you cook a pizza in a regular oven.
And even though it's a pizza oven, you can also cook tasty roasts, quesadillas, and more. The oven comes with a recipe book to help you get the most from your new oven.
Warranty
The burners and the body are warrantied to be free from workmanship defects when subjected to normal use by the original buyer. Manifolds, gas valves, refractory dome, and base are warrantied for 5 years from the date of purchase. All other components are warrantied for two years, and Lynx will replace defective parts at no cost for one year from the purchase. This includes shipping costs and service labor when necessary.
All Lynx products are made in the USA by experienced craftsmen. For pizza lovers, you are sure to impress at your next outdoor party with this oven.