As the primary element in an outdoor kitchen, selecting the best grill for your lifestyle and cooking space is an important decision.
Whether you're designing a complete outdoor kitchen and prefer a built-in grill to compliment the other kitchen elements or are looking to upgrade the cart grill in an existing outdoor living space, we have some suggestions to get you started.
Big Green Egg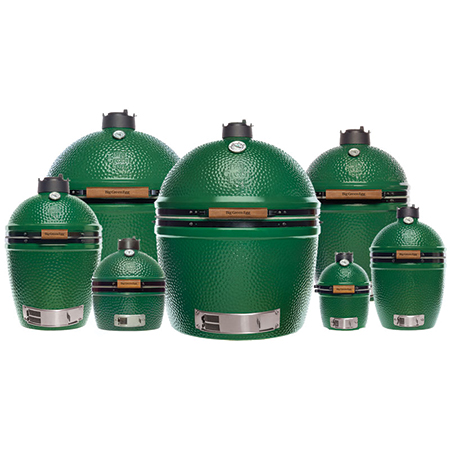 Not only is a Big Green Egg versatile functioning as a grill, oven and smoker all in one, it's stylish, too! You're sure to get plenty of compliments simply on the look of this ceramic kamado-style charcoal grill.
The Big Green Egg heats up hot for the perfect sear on steaks, pork, burgers and brats, and its two dampers adjust the temperature when grilling fish, seafood and vegetables. Lower the temperature a little more and the Big Green Egg becomes a smoker for your choice of meats. With the addition of a pizza and baking stone, the Big Green Egg transforms once again into an oven for pizzas, breads and desserts.
Since the Big Green Egg is available in seven sizes, it is an excellent choice for any outdoor kitchen as it can fit in a variety of spaces. It can be used as a tabletop grill, raised to the perfect height with a Big Green Egg Nest and set in a Custom Cooking Island. Or your custom outdoor kitchen countertop can be designed specifically to fit a Big Green Egg.
Fire Magic Aurora series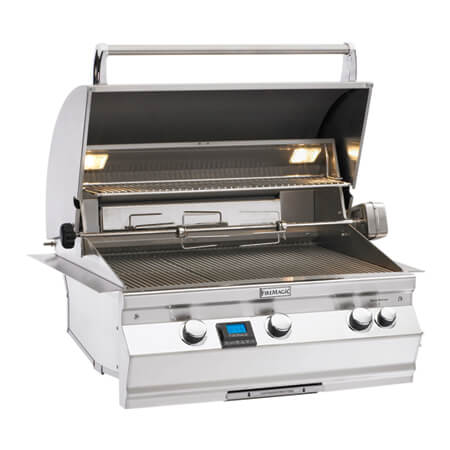 Looking for a gas grill that heats up fast and stays hot? Look no further than the Fire Magic Aurora series grill. With more BTU's per square inch and the largest cooking space compared to other grills the same size, there's no messing around when it comes to meal preparation.
Its cast stainless steel "E" burners are guaranteed for life and the stainless steel flavor grids are engineered for durability and even heat distribution.
Even novice outdoor chefs will find the Fire Magic Aurora easy to use with its Advanced Hot Surface Ignition and convenient built-in interior lights.
Add on the optional stainless steel rotisserie back burner and rotisserie kit and this conventional grill is geared up for roasting and serious barbecuing.
RCS Built-In Cutless Series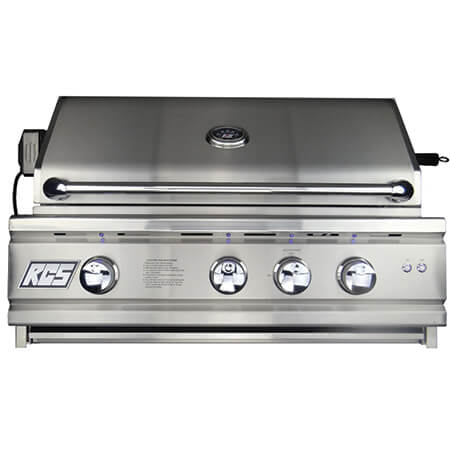 The RCS Cutless Series grill features 840 square inches of cooking space, three cast stainless steel burners, grilling zone separators and stainless steel flame tamers.
When you fire up your RCS grill, don't hesitate to invite your extended family or the entire neighborhood for a meal. Available as a built-in, this RCS grill will fit snuggly in a custom outdoor kitchen countertop.
Lynx Freestanding Grill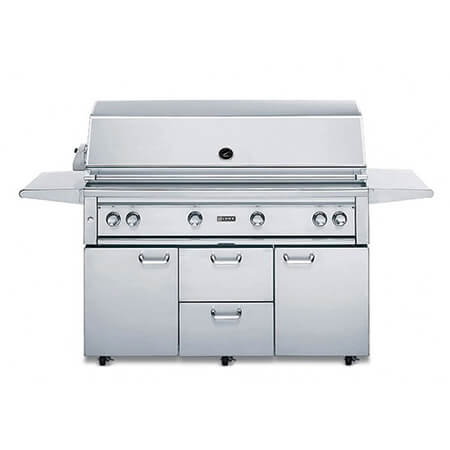 If a cart grill is a better fit for your outdoor kitchen, the Lynx Freestanding Grill could be just what you're looking for. It comes equipped with three cast brass burners, a ProSear 2 Burner, a dual position rotisserie and premium smoker box. The possibilities with this grill are truly endless.
Throw some steaks over the ProSear 2 Burner to sear, truss a chicken and secure it on the rotisserie spit, or select your favorite cut of meat to slow cook in the smoker box. Your guest won't be disappointed when the meal comes off the grill.
American Muscle Grill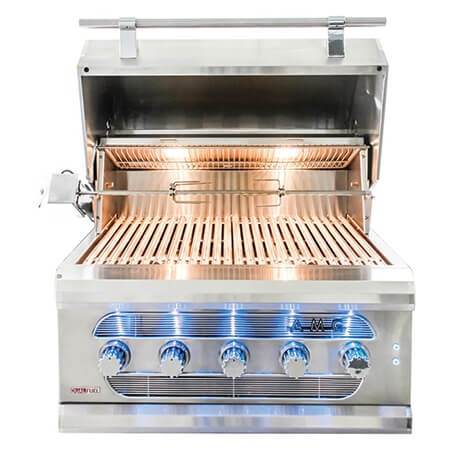 Have you dreamed about owning a grill designed after muscle car? Well you are now! Available as a built-in or cart, the American Muscle Grill is unmatched in function and design. From the front, it honestly resembles a 1968 Shelby GT 350 Mustang. Now that's sure to turn some heads!
And you can cook with pretty much any fuel on the market – charcoal, lump charcoal, wood chunks, natural gas, liquid propane and pellets fuels. Plus its resourceful Multi-Fuel Tray System makes it possible to grill using any combination of solid fuels. Let your imagination soar with this multifaceted grill!