If you don't know much about kitchen knife care, you're probably finding it hard to keep your knives sharp. Many materials in your kitchen can destroy the sharp edges of your high-quality kitchen cutlery. Tile, marble, and granite countertops are some of the things that can damage your sharp grilling tools. How can you take care of the kitchen knives?
Keep your kitchen knives looking brand new with these tips! #Creekstone
Click To Tweet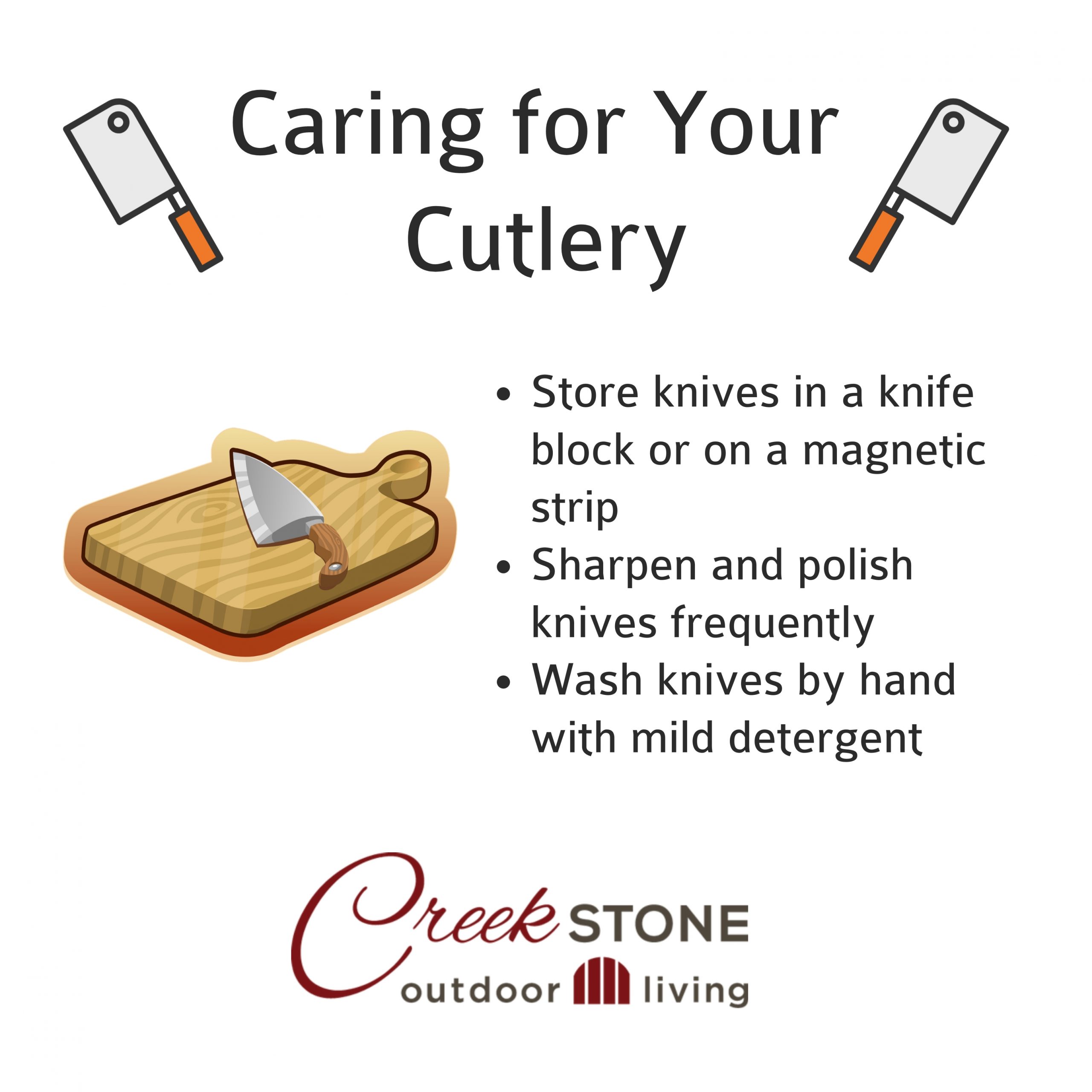 Keeping your kitchen knives clean and sharp is very important. You need to avoid practices that might damage the cutlery, such as using the knives directly on glass and metal surfaces. We'll show you some simple tips for storing and caring for your precious knife collection. Here are the ideas to consider:
Properly Storing Cutlery
The safest place to store your kitchen knives is either on a knife block or magnetic strip. Tossing a sharp knife in the drawer can destroy the sharp edges. You also risk cutting your hands when reaching the drawers. When using a magnetic knife strip, ensure that it's strong enough to hold the heaviest knives in your cutlery. Use a magnetic strip made of stainless steel and wood in front of magnets to prevent metals from rubbing against each other.
How Often to Sharpen Knives
Keeping your kitchen knives honed and sharpened throughout is the secret to owning quality cutlery. To ensure that the blades remain sharp, remember to hone and sharpen them frequently. You can do that before and after every use, and even polishing them with a leather strop to keep them in great shape. The blades will last for many years.
Pro Tip: To give your top-quality cutlery the proper care and maintenance they deserve, hone and sharpen the knives regularly using the sharpening blocks and honing steels.
Quality Cleaning Guidelines
Cleaning your kitchen knives properly can keep them in great condition. Avoid washing the cutlery in a dishwasher, which tends to remove any protective coatings on the knives. The dishwasher uses highly-caustic chemicals that can wear the blades' edges, making the knives dull. Always wash the blades by hand using hot water and mild detergent.
Taking Great Care of Your Cooking Utensils
Since your cutlery is one of the most valuable assets in your kitchen, you need to embrace all the knife care tips we've discussed. Make sure you hone and sharpen the knives frequently, wash them regularly, and store them properly. With these knife maintenance ideas, you can keep your blades sharp for a very long time.
Connect with us to learn more knife care tips and ideas.