Have you ever tried grilled fruit recipes before? If not, now is the perfect time to do so. Grilling fruits is a great way to harness their natural sugars. They become juicier, sweeter, and even retain a smoky flavor. Rest assured that you'll love the grilled fruit recipes we've prepared for you. Discover how you can make your fruits more delicious.
Experiment with sweet and smokey flavors by trying these grilled fruit recipes! #CreekstoneOutdoors
Click To Tweet
Try These Fruit Grilling Ideas
Grilling can make your favorite fruit tastier, especially when it's fresh, ripe, and firm. However, you should note that some fruits grill better than others. Some great choices include pineapples, bourbon peach, blueberries, apricots, and plums. Let's take a look at some grilled fruit recipes for the first three fruits mentioned.
Pineapple teriyaki sliders

Blueberry dump cake

grilled pork tenderloin w/bourbon peach BBQ sauce
1) Pineapple Teriyaki Sliders
While the smoky scent of beef and bacon in this burger is enticing, the grilled pineapple makes it sweeter.
Ingredients
4-8 slices of cooked bacon

2 pounds medium ground beef

8 COBS Gourmet slider buns

¼ cup Club House La Grille 30 Minute Teriyaki Marinade and a ¼ cup for basting

Extra old/sharp cheddar cheese
Directions
In a large bowl, mix Steakhouse Onion Burger Seasoning, Teriyaki Marinade, and ground beef by hand. Place patties that are a bit larger than slider buns onto a sheet of waxed paper. Chill in the fridge for 30 minutes

As the slider patties chill in the fridge, make the pickled onion. Use

this recipe

to prepare quick pickled onions.

Preheat

your grill

to 450°F, and place the bacon on a foil-lined tray and onto the grill as it preheats.

Once the temperature has risen, grill the slider patties and pineapple over direct heat. Baste the patties using teriyaki marinade and flip the sliders and pineapples after forming grill marks.

Place the cut sides of COBS Bread Gourmet Slider Buns onto the Warming Rack Baking Stone to toast.

Grill the sliders up to an internal temperature of 165°F. Remove everything on the grill and top the sliders with cheddar while preparing the pineapple sauce

Cut the pineapple into pieces then remove the core portion. Mince the pineapple cuts, leaving a few pieces for garnish. Stir the fruit in the sour cream.

Assemble the burgers with the sauce on the bottom bun. Top it with a patty, then with pickled onion and some sauce on top. Garnish it with a pineapple piece on a toothpick through the bun's top.
2) Blueberry Dump Cake
Blueberry dump cake can be a great dessert for everyone. Thankfully, it's easy to prepare and cook in no time.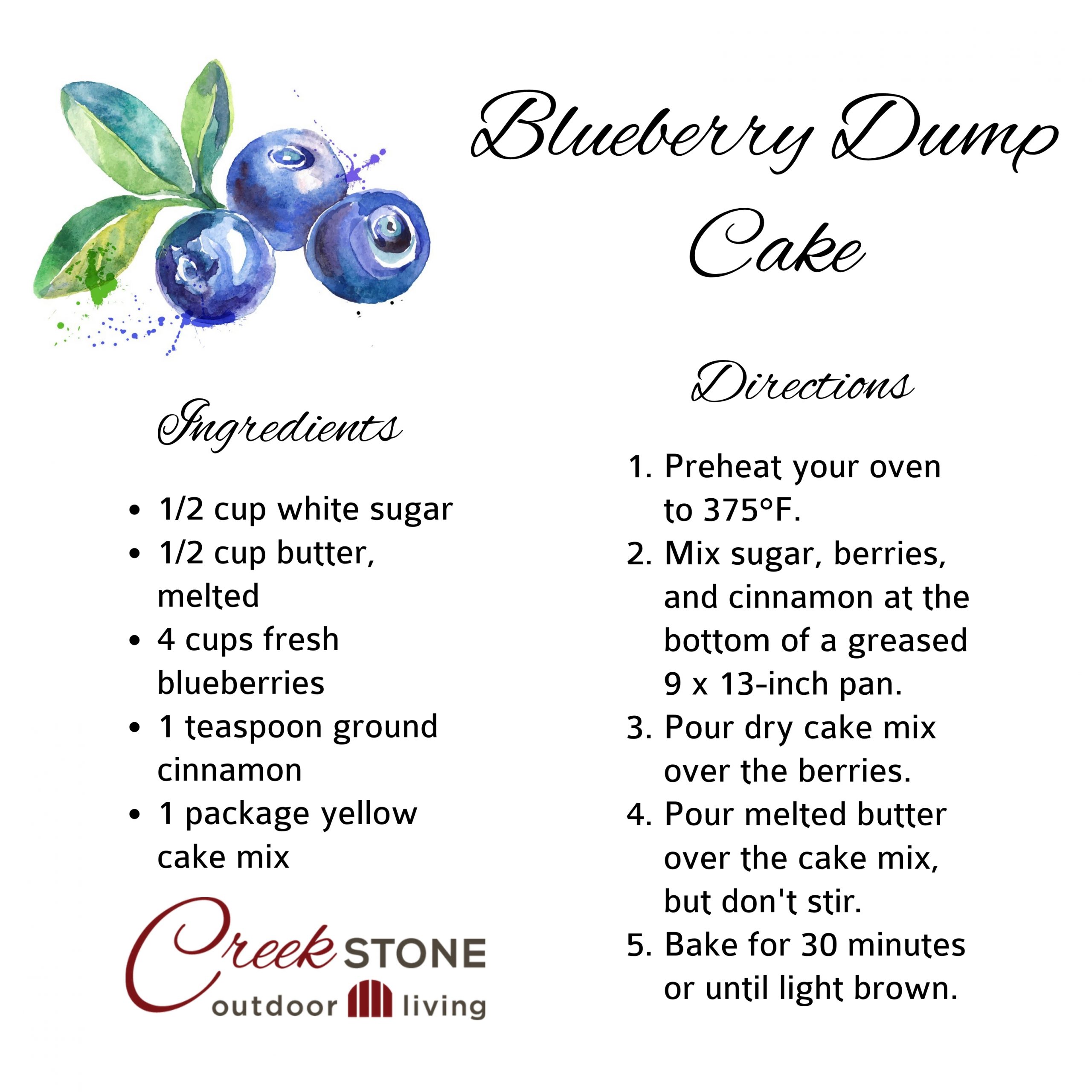 Ingredients
1/2 cup white sugar

1/2 cup butter, melted

4 cups fresh blueberries

1 teaspoon ground cinnamon

1 package yellow cake mix
Directions
Preheat the oven to 375°F

Mix sugar, berries, and cinnamon at the bottom of a 9 x 13-inch pan. Then, cover the berries with dry cake mix. Pour melted butter over the cake mix, but don't stir.

Bake for 30 minutes, or until it turns light brown. You can serve warm or cold and even top with ice cream.
3) Grilled Pork Tenderloin w/Bourbon Peach BBQ Sauce
You can serve this flavorful and juicy grilled pork tenderloin with a unique barbecue sauce prepared using fresh peaches and bourbon.
Ingredients
1/4 cup bourbon

1 cup peach preserves

1 tablespoon vegetable oil

1 tablespoon garlic chopped

Bourbon Peach Barbecue Sauce

1/4 cup French's® Tomato Ketchup

2 pork tenderloins (about 2 pounds)

1 tablespoon OLD BAY® Seasoning

1 1/2 teaspoons OLD BAY® Seasoning
Directions
Rub pork with vegetable oil then season it with one tablespoon of OLD BAY and garlic

Mix peach preserves, bourbon ketchup, and 1 1/2 teaspoons of OLD BAY in a small bowl to form a barbecue sauce

Grill pork over medium heat for 25-30 minutes. Brush it with sauce during the last two minutes of cooking. Finally, slice and serve with the remaining sauce
Pro Tip: Pair this dish with your favorite iced tea or use leftover fruit for a cocktail of your choice!
Adding the Sweet Flavors of Fruit
Now that you know some grilled fruit recipes, you can quickly grill the fruits to make them sweeter and have some delicious summer dinners. Whether it is pineapple teriyaki sliders, blueberry dump cake, or grilled pork tenderloin with bourbon peach BBQ sauce, all grilled fruit recipes are incredible.
Connect with us for more easy fresh fruit recipes!