You probably already have a long list of things to consider as you design an outdoor kitchen. From appliances to running water, a lot of essential features go into your new hangout spot. But don't forget the part of your kitchen that allows you to do any food preparation in the first place: countertops.
What sort of countertops are best for your outdoor kitchen? The answer depends on your backyard conditions as well as your preferences. Learn how to find the perfect outdoor kitchen countertops here. #Creekstone #backyarddesign Click To Tweet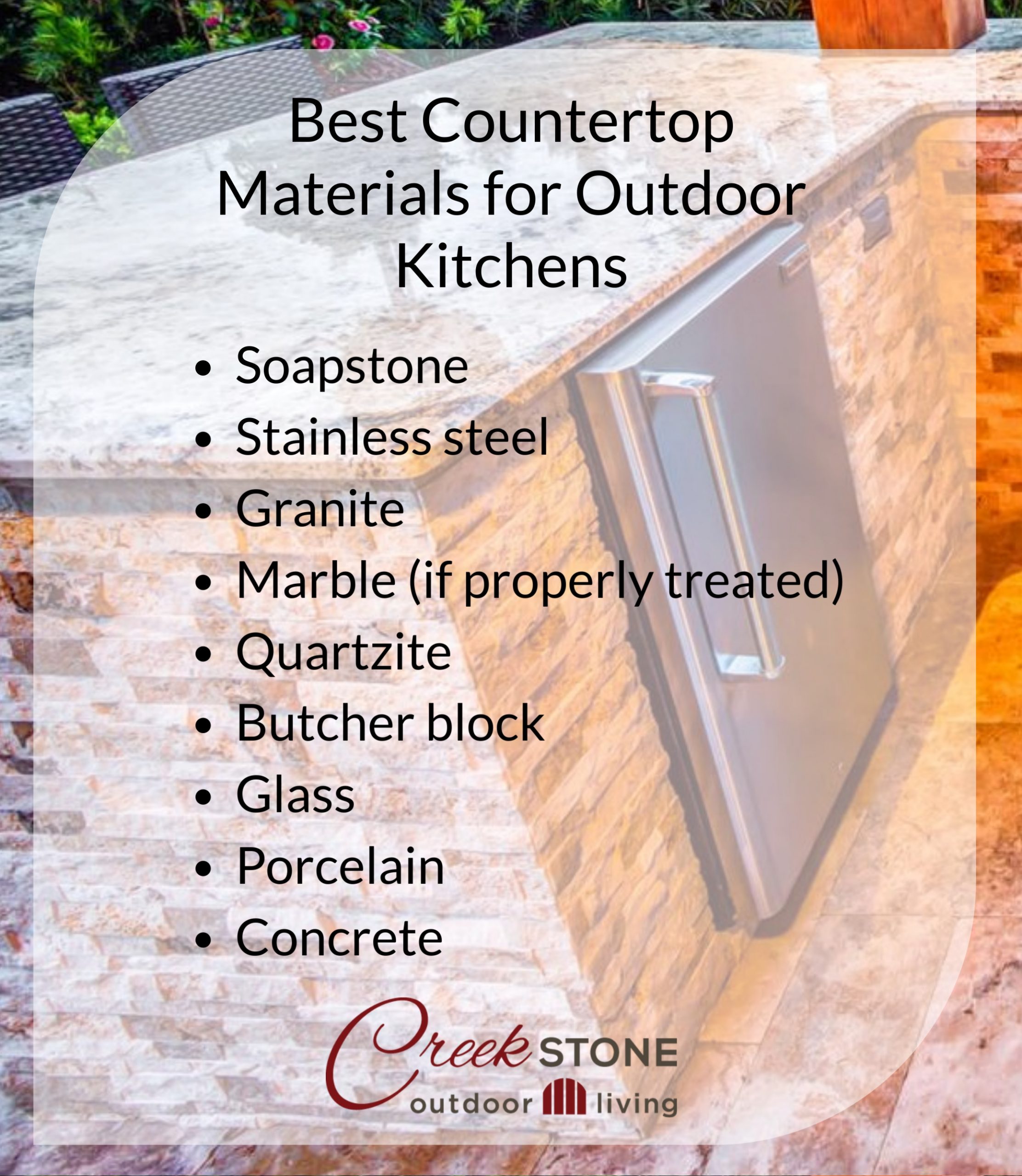 Elegant Countertops for Your Backyard Kitchen
The warm Houston climate means that certain countertop materials either won't last long or will be unpleasant to work with, especially if exposed to direct sunlight for too long. Fortunately, there are plenty of far more durable options for homeowners to consider. Here are some of the best countertop materials for Houston-area outdoor kitchens:
Soapstone

Metal (Stainless Steel)

Granite

Marble

Quartzite

Butcher block

Glass

Porcelain

Concrete
1) Soapstone
Durable and maintenance-free, soapstone is a great countertop choice for homeowners who need style and ease of use. It's a natural stone that can be easily cut, shaped, and installed. Compared to granite or marble, counters longer than seven feet may require several pieces since they're usually found ins smaller slabs.
2) Metal (Stainless Steel)
Relatively costlier than other countertop options, stainless steel countertops are a great option for homeowners with a sleek, modern kitchen. Because of its metal nature, the countertop is nonporous, making it resistant to any stains or rust buildup.
3) Granite
Granite stone countertops have been a customer favorite for years, and it's no surprise thanks to its range of pattern and color options. Unlike many other countertops, granite won't etch, discolor or lose its shine. Touting long term durability and easy care, your outdoor kitchen will find the perfect balance of style and function with granite counters.
4) Marble
Unlike the marble countertops found indoors, your outdoor countertop can be furnished with marble stone tiles to fit your space. For added durability, outdoor marble counters usually have a slightly textured surface to withstand weather elements. Proper cleaning methods are required to keep your counters looking clean year-round.
Pro Tip: Keep your countertops cool and easy to touch year-round by choosing a light-colored countertop to withstand the heat of the sun.
5) Quartzite
Sometimes confused with quartz, quartzite is a separate, natural stone that is quarried in a process similar to granite. Quartzite countertops in your outdoor kitchen are a crowd favorite, especially if you like the look of marble, want year-round durability, and low maintenance.
6) Butcher Block
While certain wood species may not be able to withstand the weather elements, butcher block countertops are a great way to add functionality to your outdoor space. Suitable woods such as elm, white oak, maple, or chestnut can sealed and installed directly on your cabinetry. With periodic maintenance and premium finish, a nearby butcher block will make food prep a breeze.
7) Glass
A unique design choice for an outdoor kitchen, glass countertops offer a number of customized options, such as special textures, patterns, or embedded stones. While most glass counters can etch from acidic foods or drinks, many homeowners have found success with its durable subtype, white glass countertops.
8) Porcelain
Compared to the different types of stone countertops, porcelain is a great option for those looking for a durable countertop that doesn't need sealing. With the ability to span a larger counter space, fit any design style, and require low maintenance, porcelain countertops are quickly becoming a top choice for outdoor kitchens.
9) Concrete
Usually poured during installation, concrete counters are a durable choice for many homeowners. With concrete, you can choose from a variety of stains to coordinate with your cabinetry and appliances. While they do require sealing, concrete counters are easy to clean and can withstand high temperatures.
Choose the Right Outdoor Kitchen Countertop
Beautiful, durable countertops are an essential addition to your backyard kitchen. While some materials or patterns may look appealing, remember that exposing them to the outside elements may result in damage. As you start making plans for your home improvement project, take the time to find the right material that matches both your aesthetic preferences and practical needs.
Connect with us on social media to see what completed outdoor kitchens with different types of countertops look like.