Outdoor kitchens continue to gain in popularity as homeowners across the county seek to spend more time outdoors. They can be a welcome addition to an existing patio area and can complement a new entertainment space. From luxurious to simplistic, the possibilities are infinite.
Let's take a glimpse at some inspirational ideas from our own portfolio.
Sports Fan's Paradise
Amenities such as a wall-mounted TV, oversized comfy couches and an extended granite countertop bar will make you the envy of every sports fan in the neighborhood. So go ahead and invite them over for the next big game!
An Inclusive Space
Everyone is part of the party when an outdoor kitchen includes floating bar seating and a stunning outdoor table. This inclusive layout lets the cook tend to dinner on the grill while enjoying the company of family and friends.
Room for a Crowd
There's no need to limit the guest list when your outdoor kitchen easily accommodates a crowd. Built-in seating on a patio a few steps from the outdoor kitchen provides a cozy gathering place while leaving plenty of room for guest to mingle comfortably.
Complementary Stone Accents
The addition of an outdoor kitchen should stand out for many reasons, but it should also blend in with existing structures. Natural stone accents can complement the brickwork or stone on an existing home and the other elements in a kitchen.
Wood Beams and Ceilings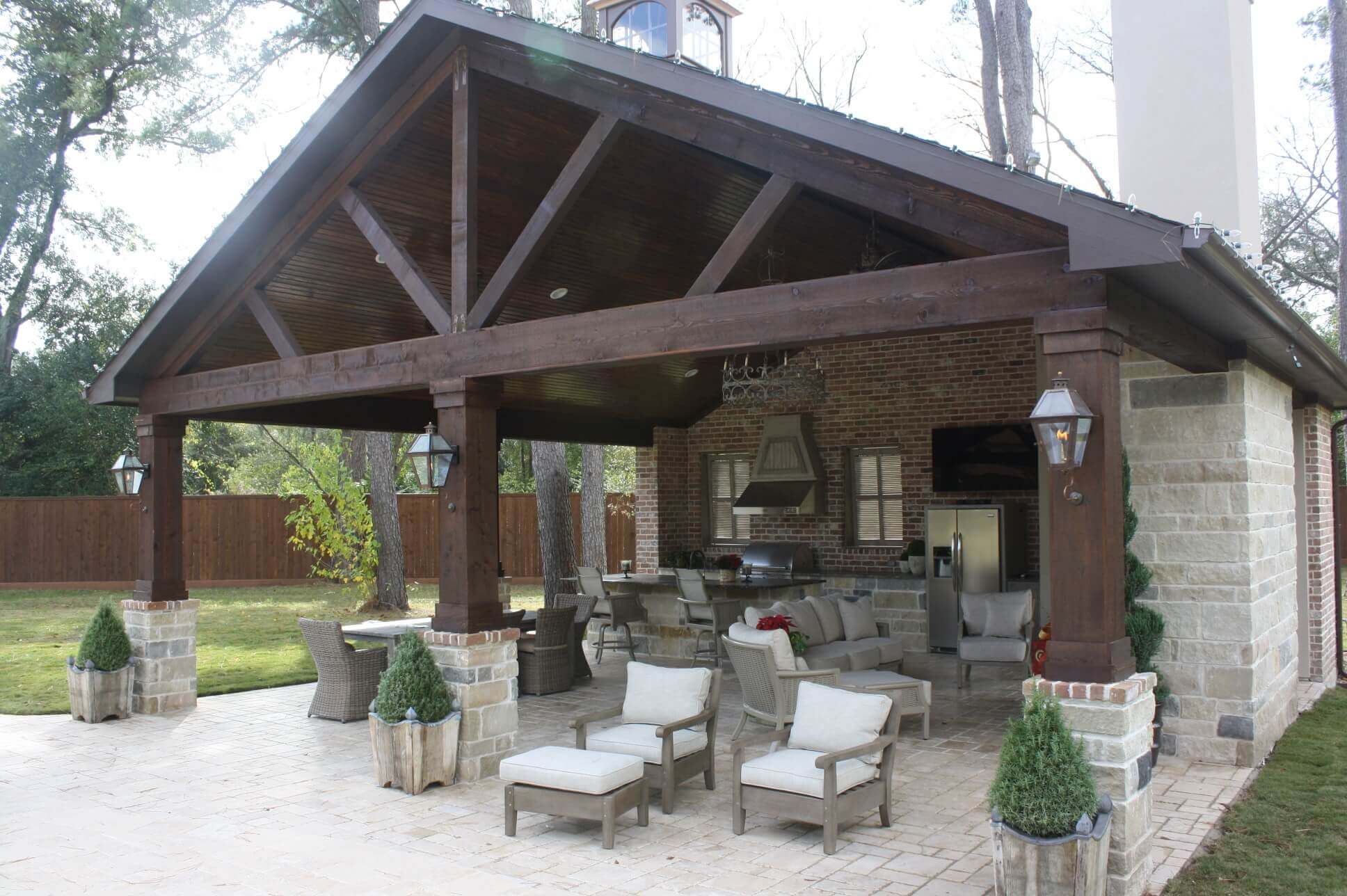 While a patio cover functions to keep the outdoor kitchen and its occupants protected from the elements, wood beams and ceilings add distinctive flair to the space.
Functional Layout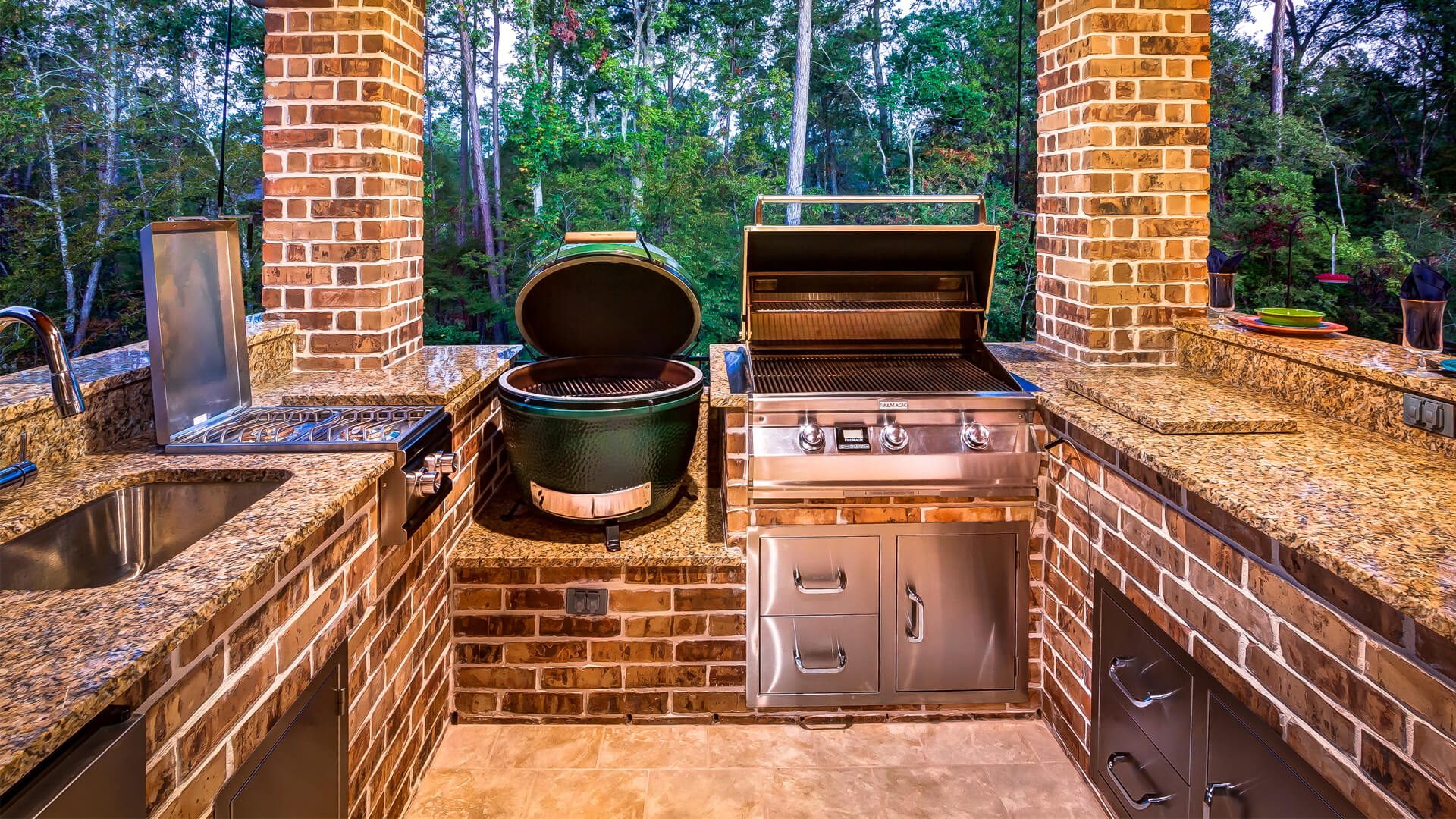 Designing an outdoor kitchen with a U-shaped layout puts all the elements within reach. With this design, the cook can effortlessly manage the grills and side burner without having to leave the kitchen to get essentials from the refrigerator and storage drawers. Food preparation is simplified thanks to a sink and granite countertop with matching cutting board.
Best Seat in the Pool
What's better than a poolside outdoor kitchen? Not much, except for an poolside outdoor kitchen with a swim up bar. Swim up barstools are the ideal spot to sip a refreshing beverage and socialize as the meal is prepared.
Let the Sun Shine In
A custom pergola covered with a tinted polycarbonate roof is the perfect solution for those with a desire for natural light in an outdoor kitchen. The roof protects the kitchen's elements, but lets plenty of sun shine on the party.
Warm It Up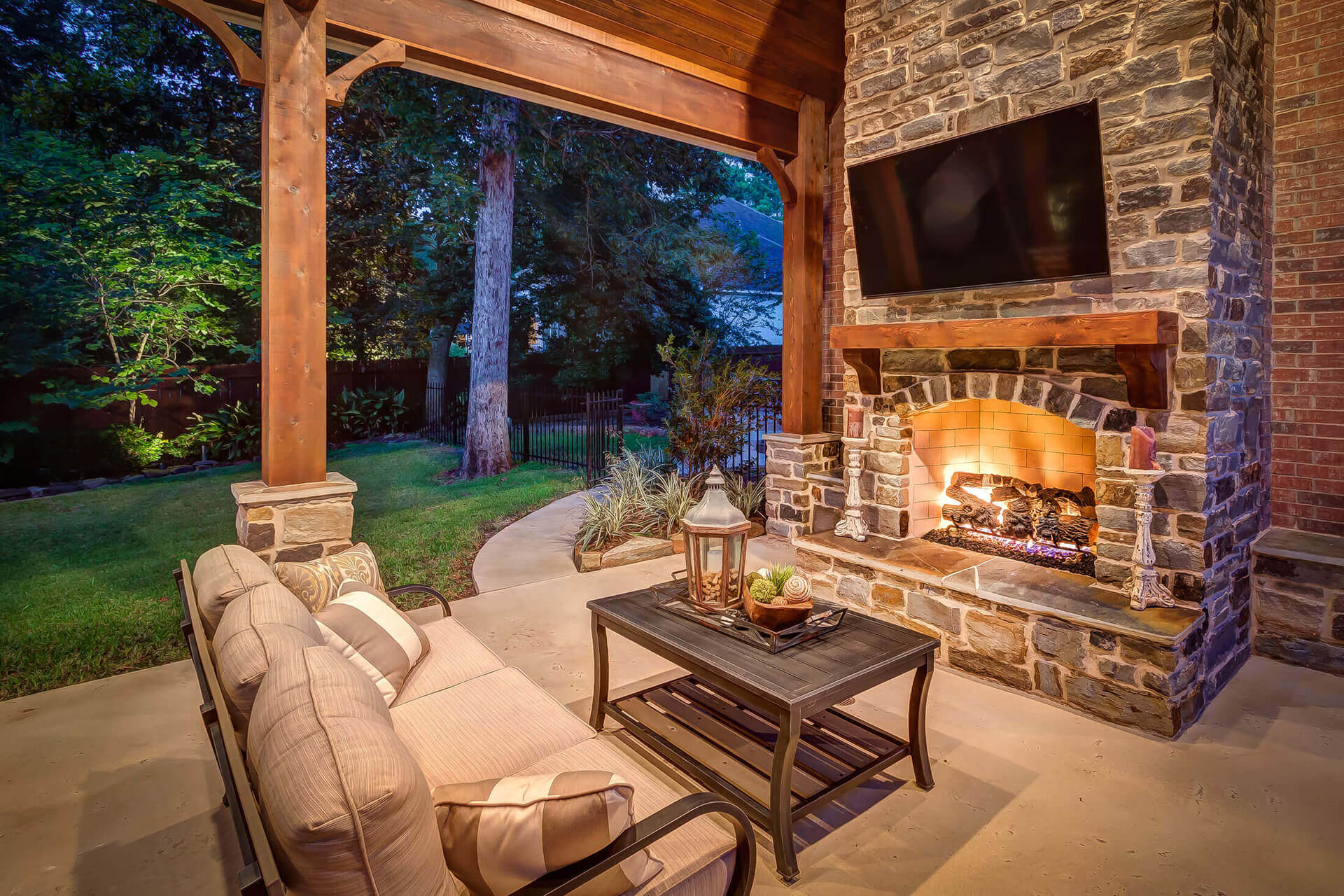 Outdoor kitchens equipped with heating elements, such as an outdoor fireplace, extend the season of outdoor living spaces. Guests can warm up during cooler weather as they bask in the glow of fresh cut logs or a gas log insert depending on your tastes.
Go All Out
Sometimes you just have to go all out. An outdoor kitchen is a welcome element in a complete entertainment complex. While the kitchen may not be the centerpiece of the design, it's convenient location just steps away from the pool area makes grabbing a snack a breeze.